Revolutionizing sustainable construction: Introducing Wood100®DLT by International Timberframes
by arslan_ahmed | September 6, 2023 6:00 am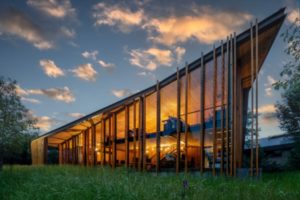 The engineered wood products market is on the rise with more and more commercial and residential buildings being constructed with this sustainable material. As the benefits of mass timber have become truly understood, architects, engineers and builders are realizing the potential of dowel-laminated timber (DLT) as a healthy, sustainable, and energy efficient option.
International Timberframes in British Columbia is designing, manufacturing, and installing a 100 per cent wood DLT mass timber product called Wood100® DLT: no glue, no nails, just 100 per cent wood. Lumber layers are assembled into solid wood panels designed for walls, floor, ceilings, and roof structures. These perform better than other construction methods at heat insulation, fire security, radiation shielding, earthquake safety, and protection against condensation, and mould growth.
After designing and pre-planning for location of windows, electrical and plumbing—wherever it is relevant—the solid wood panels are prefabricated. When the site is ready, they are delivered and assembled quickly and efficiently.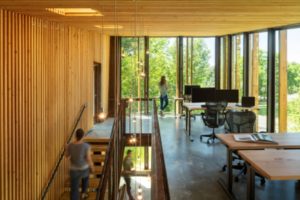 To keep the Wood100®DLT building fully natural and sustainable, International Timberframes also provides wood fibre board insulation. This is a safe, natural, and high performing alternative to many synthetic insulation options currently on the market.
For more information about International Timberframes' products and services, please visit itimberf.com[3].
Endnotes:
[Image]: https://www.constructioncanada.net/wp-content/uploads/2023/08/Photo-1.jpg
[Image]: https://www.constructioncanada.net/wp-content/uploads/2023/08/Photo-2.jpg
itimberf.com: https://itimberf.com/mass-timber-dlt/
Source URL: https://www.constructioncanada.net/revolutionizing-sustainable-construction-introducing-wood100dlt-by-international-timberframes/
---