Radial ceiling reflects curved design of Calgary labour union offices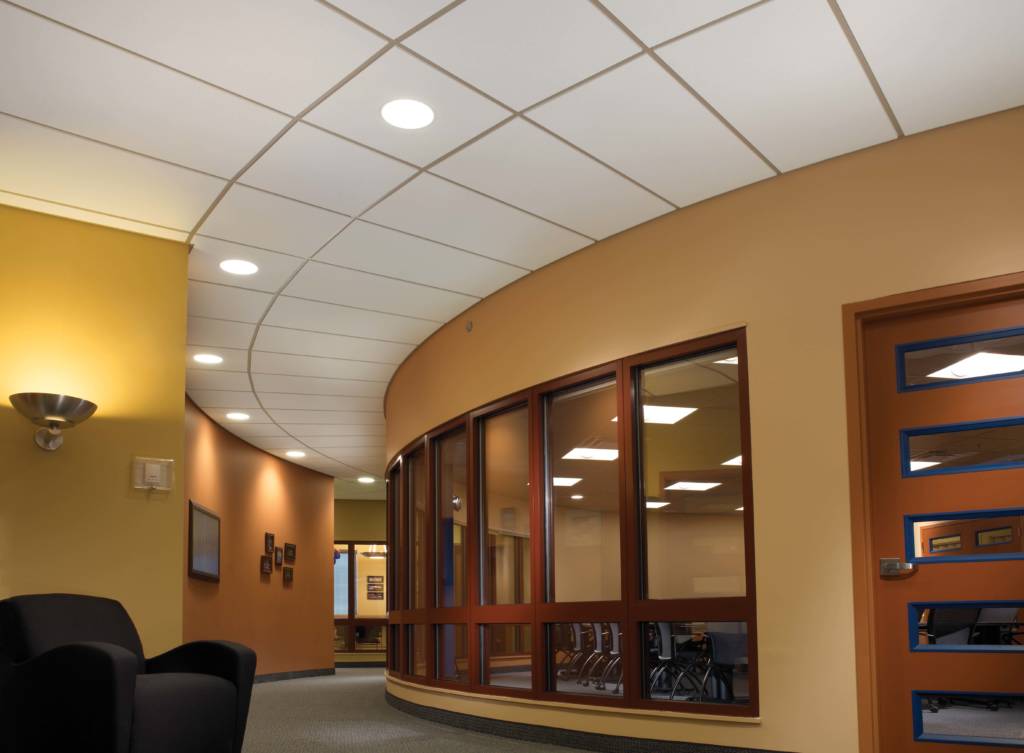 Curved spaces in commercial interiors can often present a variety of design limitations, especially when it comes to the ceiling. This was not the case, however, at the Calgary office of the Health Sciences Association of Alberta (HSAA). A radial ceiling installed in the curved corridor of this facility not only provides pleasing esthetics, but also outstanding acoustical performance and easy access to the plenum.
HSAA is a labour union representing more than 24,000 paramedical technical, professional, and general support employees in the public and private healthcare sectors of Alberta. It maintains a head office in Edmonton and regional office in Calgary.
Space offered new design flexibility
When the Calgary office moved to its current quarters in a newly constructed building, architect Avery Temofychuk of Temofychuk Gerbitz, the Edmonton-based firm responsible for the interior design of the offices, notes the move was significant for a number of reasons, one of which was more design flexibility.
"HSAA leased its previous office, so the space was very typical, with rectilinear walls and a traditional floor plan," he says. "Because it was rented, there was not much opportunity for custom design."
HSAA now owns its space, which provided Temofychuk with the opportunity to design it specifically for the labour union's use and to give it more personality and character. One of the highlights of the space is a large boardroom that features a rounded, window-filled interior wall. A curved corridor separates the boardroom from the office's staff area.
Curved corridor presented design dilemma
It was the curved corridor's ceiling that presented Temofychuk with an initial design dilemma.
"We didn't want to use drywall because it didn't allow access to the plenum, which was an important criteria," he explains. "Drywall didn't provide a great deal of acoustical control either, especially in terms of sound absorption.
"We also looked into a suspended ceiling using traditional square and rectangular acoustical panels," Temofychuk adds, "but felt curvilinear ceilings don't always work well with these panels because of all the field cutting required to make them fit. If it's not done correctly, the finished ceiling can appear very choppy and messy."
Temofychuk and his design team then decided to use a capability from Armstrong Ceiling Solutions that provides designers with the opportunity to use radial ceilings in wood, metal, or fibreglass to reflect the architectural design of a space.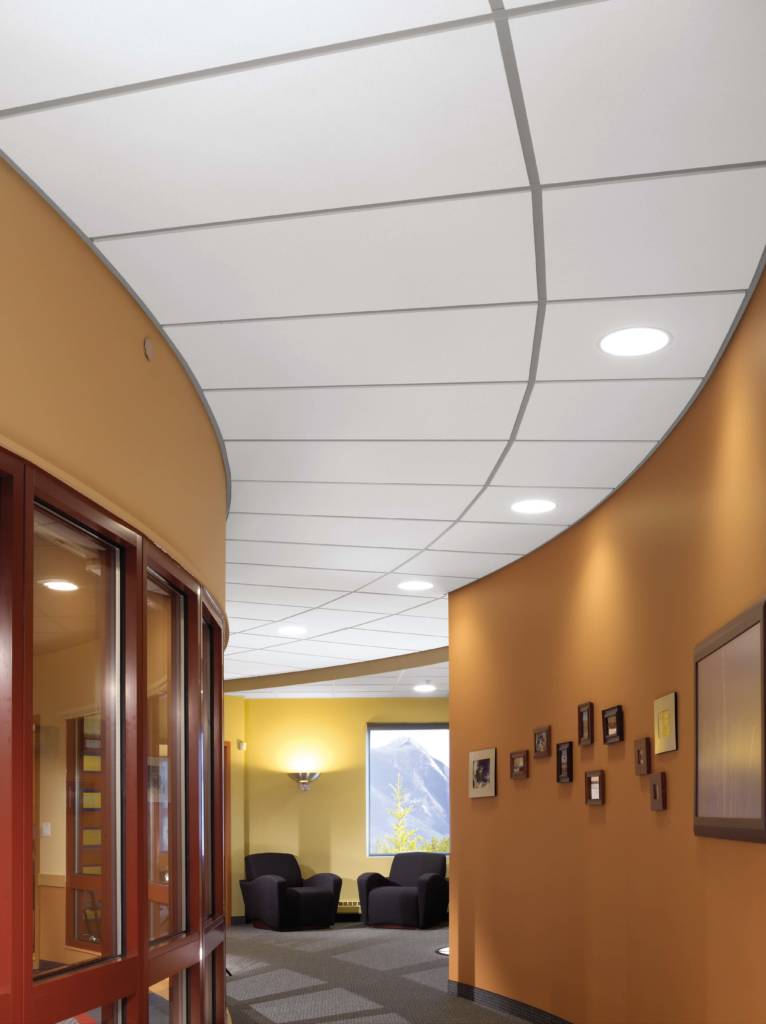 Radial ceiling features fine-textured look
Chosen for use in the HSAA corridor were Optima™ radial fibreglass ceiling panels. Esthetically, the panels feature a clean, very fine-textured, non-directional look on a bright, scratch-resistant surface. Acoustically, they have an extremely high noise reduction co-efficient (NRC) of 0.90 to 0.95—this means they absorb 90 to 95 per cent of the sound striking them.
The corridor is approximately 1.8 m (6 ft) wide, with an interior radius of about 6.6 m (21 ½ ft) and exterior radius of 8.4 m (27 ½ ft). Temofychuk used two different trapezoidal-shaped panels to span the corridor, and a third in areas where the radial ceiling extends from the corridor into other spaces, such as the reception area and the office's lunch room.
In terms of size, the first ring of panels emanating from the interior corridor wall measure 1067 mm (42 in.) in length, and 533 mm (21 in.) at the narrow end and 610 mm (24 in.) at the wide end. The second ring of panels measures 610 mm (24 in.) long, and 610 mm (24 in.) at the narrow end and 660 mm (26 in.) at the wide end. Where required, the panels in the third ring measure 1219 mm (48 in.) long, and 660 mm (26 in.) at the narrow end and762 mm (30 in.) at the wide end.
All the radial panels feature a tegular or reveal edge detail for esthetic reasons.
"Compared to a square lay-in edge, tegular panels normally require more sophisticated cutting to fit into the suspension system," Temofychuk notes. "However, because these panels were factory-engineered, the need for field cutting was essentially eliminated."
Design assistance facilitated custom ceiling
Temofychuk admits that when he first decided to use a suspended radial ceiling, he was apprehensive.
"This was the first time we were going to try this," he states, "so it was very different for us."
To assist in the design of the radial ceiling, Temofychuk was put in contact with the Armstrong Architectural Specialties Group, now known as the You Inspire™ Solutions Center. It is a consultative service comprising specialists with expertise in both architecture and engineering whose sole mission is to partner with designers in the implementation of custom ceiling designs.
"We sent our CAD drawings to them, and they essentially built the ceiling from our drawings," he states. "It turned out to be a very valuable service. We would have been very hesitant to try it without them, especially since we had never designed this type of specialized ceiling before."
Ceiling installation easier than expected
Installation was also easier than Temofychuk expected.
"Considering all the trapezoidal panels were being manufactured offsite, we thought the contractor might have a problem," the architect notes. "However, the panels fit well in the suspension system, and everything went very smoothly. The crews had no trouble at all putting the system together. We were pleasantly surprised."
It is for reasons like this that Temofychuk reports he would definitely use radial ceilings again, not only with fibreglass panels, but also metal or wood depending on the needs of the space.
"For layouts that call for something other than square or rectangular panels, radial ceilings offer a real design enhancement."
For more information on Armstrong Optima ceilings, visit www.armstrongceilings.com/optima.
All information listed in this section was submitted by Armstrong World Industries.
Kenilworth Media Inc. and Construction Specifications Canada (CSC) cannot assume responsibility for errors of relevance,
fact or omission. The publisher nor CSC does not endorse any products featured in this article.