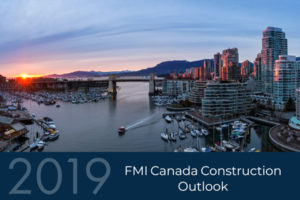 We are excited to release our first Canadian construction forecast for 2019, which includes projections for the various segments that make up the broader built environment in Canada. In it, we identify the markets and segments that are poised for expansion or contraction next year, as well as information on key market drivers.
What will the trends for construction put in place look like over the next few years? Which market segments will see the most growth? For the full insights, sign up to receive FMI's Canada Construction Outlook here.
All information listed in this section was submitted by FMI Corporation.
Kenilworth Media Inc. and Construction Specifications Canada (CSC) cannot assume responsibility for errors of relevance,
fact or omission. The publisher nor CSC does not endorse any products featured in this article.