News Briefs
Designs for new Guelph Central Library unveiled
The Guelph Public Library board of directors has approved the schematic design for the new Central Library recently presented by Diamond Schmitt Architects, including interior and exterior renderings.
» Read More
DEMO-CASTS ON DEMAND
Design for year-round comfort, energy savings
CertainTeed Demo-Cast
How to Do More with Less: A Case for Fabric Structures
Legacy Building Solutions Demo-Cast
Feature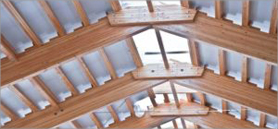 A guide to field notching and drilling LVL and glulam
Laminated veneer lumber (LVL) and glue-laminated timber (glulam) products are used in applications where they will be highly stressed under design loads. Drilling or notching LVL and glulam must typically be avoided. However, in situations where it is not possible, these guidelines must be followed.
» Read more
| | | |
| --- | --- | --- |
| | | News |
Missed this from the web?