News Briefs
PINK Fiberglass: Visibly different
Introducing the next generation of PINK Fiberglas. Owens Corning's PINK Next Gen Fiberglas insulation is made for a new generation.
» Read More
UPCOMING DEMO-CASTS
CertainTeed Commercial, Residential, and Innovative Roofing Systems
CertainTeed Demo-Cast
Oct 5 @ 1 PM ET
Feature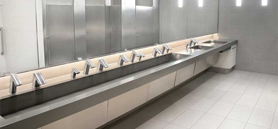 Touch-free restrooms sensor-operated products
The COVID-19 pandemic is creating a new normal across all walks of life—increased levels of sanitation, minimized hand-to-hand contact, and the rise of work from home culture, to name a few. The commercial restroom is no exception to these overhauls.
» Read more
| | | |
| --- | --- | --- |
| | | News |