News Briefs
Toronto Montessori School adds wooden atrium
Ahead of its 60th anniversary, Toronto Montessori School unveils a new Bayview campus lobby and atrium, designed to encapsulate nature using wood structural elements and natural light to welcome students, teachers, staff, and parents.
» Read More
Montreal architecture firm announces 13 appointments
Montreal-based architecture firm Lemay announced 13 appointments within the firm, including three new senior partners and a new chief operating officer (COO). Additionally, the team has gained two new discipline directors, a new associate, and six project directors.
» Read More
Electric Autonomy hosts new design competition
Electric Autonomy is hosting a design competition where the entrants are asked to incorporate several design consideration.
» Read More
UPCOMING DEMO-CASTS
How to Do More with Less: A Case for Fabric Structures
Legacy Building Solutions Demo-Cast
Sep 21 @ 1 PM ET
Feature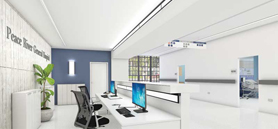 The important role of healthcare lighting
Just as medicine has moved toward evidence-based [medicine] where clinical choices are informed by studies, health-care design is increasingly guided by rigorous research linking hospitals' physical environments to patient outcomes. The contemporary environment of care recognizes that, while the physicality of hospitals must support the effective delivery of care, they are in and of themselves tools in the healing process, supporting wellness through psycho-physiological effects.
» Read more
| | | |
| --- | --- | --- |
| | | News |