New suspended ceiling technologies can help limit COVID-19 transmission: A healthy return to the office also requires a focus on air quality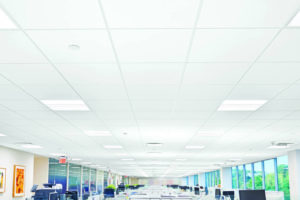 Since the outbreak of COVID-19, it is estimated more than one-third of the workforce has shifted to a 'work from home' environment. However, as questions arise about productivity, employers are anticipating a return to the traditional office space. A critical part of re-entering is assurance that employees are provided a safe, healthy environment. To that end, employers need to take precautions to comply with guidelines to minimize exposure to COVID-19.
Office environment concerns
According to the U.S. Centers for Disease Control (CDC), COVID-19 is primarily spread between humans in close contact through respiratory droplets when an infected person coughs or sneezes. Wearing masks, social distancing, and cleaning surfaces are strongly encouraged by the CDC. In October 2020, it updated its guidance stating infections can also be spread by airborne transmission from smaller droplets that may remain airborne for three hours or longer, carry beyond 2 m (6 ft), and remain contagious.
While additional studies are needed, it is believed initial exposure levels of COVID-19 coincide with the severity of sickness. If so, steps should be taken to reduce aerosol contaminants that may linger in closed, inadequately ventilated spaces.
Today's office environment
With a better understanding of today's workplace, the challenges facing a return to the office are clear. Research from the World Health Organization (WHO) suggests environments heavily populated with poor or insufficient air flow raise infection rates. The WHO further encourages good ventilation in all closed settings.
Similarly, in May 2020, the CDC updated its "Guidance for Businesses and Employers Responding to Coronavirus Disease 2019" suggesting employers seeking to resume normal business operations improve the building's ventilation system.
HVAC recommendations
In providing guidance on healthy workplace procedures for the return to offices, the CDC cites HVAC airflow recommendations from the American Society of Heating, Refrigerating and Air-Conditioning Engineers (ASHRAE). In its April 2020 "Position Document on Infectious Aerosols," ASHRAE states while ventilation systems cannot address all aspects of infectious control, "changes to building operations, including the operation of heating, ventilating, and air-conditioning systems, can reduce airborne exposures."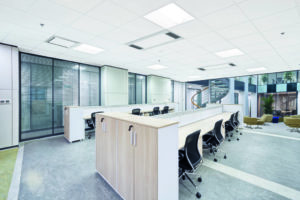 The document lists several recommendations employers should consider to reduce occupant exposure to infectious aerosols. Among them are strategies to improve ventilation through dilution, airflow patterns, filtration, and pressurization.
Leakage control
An additional effective strategy is utilizing suspended ceiling technologies in combination with improved filtration.  For example, specially engineered suspended ceilings are a proven technology in patient rooms, clean rooms, and labs to help prevent the spread of contaminants.  A gasket is often placed between the ceiling tile and grid to form a tight seal and prevent the spread of pathogens into the plenum and other areas of the building.
The tighter seal also helps reduce air leaks and increases the efficiency of HVAC filtration. An efficient system allows more contaminants to be exhausted out of the room and into filters capturing and cleaning the air of pathogens.
An added challenge today is the trend of higher ceilings that expose duct and pipe work. A metric used to measure the amount of air entering and exiting a room is air changes per hour (ACH). The incorporation of a suspended ceiling reduces ceiling height and thus the volume of air needing to be exhausted. Installation of a suspended ceiling increases ACH and lowers the time it takes to clear a space of airborne contaminates.
Armstrong ceiling solutions
To help ensure a healthier environment in the post-COVID world, Armstrong Ceiling & Wall Solutions offers a range of suspended ceiling technologies. These include the CleanAssure and AirAssure family of products, both of which easily retrofit into existing grids.
Smooth-textured CleanAssure ceilings can be cleaned by wiping, spraying, or fogging to eliminate pathogens. AirAssure ceilings incorporate a gasket in their design and have been proven to increase the effectiveness of in-ceiling air filtration by up to 40 percent. Additionally, Armstrong has partnered with Medical Illumination International (MI) and combined MI's VidaShield UV24 air purification system with AirAssure panels to produce a system that uses ultraviolet (UV) light to deactivate pathogens. Test results show it neutralizes 97 percent of infectious pathogens in aerosols during the first pass of air through the system.
Summary
As the nation reopens its economy, ensuring a safe and healthy environment is critical. The confidence of knowing systems and facilities have been implemented or upgraded to potentially reduce the transmission of COVID-19 is paramount before the return of employees and others exposed to public spaces.
For more information
The information above is drawn from a white paper prepared by the Thompson Research Group illustrating how air quality and suspended ceiling technologies can play an important role as stand-alone solutions or in conjunction with other products to reduce the spread of infectious aerosols. To view the entire white paper and learn how to create healthier spaces, visit armstrongceilings.com/healthyspaces.
All information listed in this section was submitted by Armstrong.
Kenilworth Media Inc. and Construction Specifications Canada (CSC) cannot assume responsibility for errors of relevance,
fact or omission. The publisher nor CSC does not endorse any products featured in this article.

Control the content you see on ConstructionCanada.net!
Learn More.