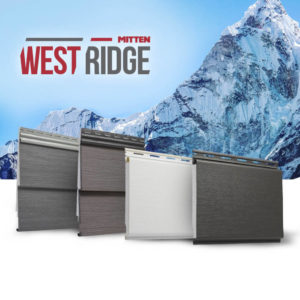 It's a challenge that puzzles homebuyers and homebuilders to this day. When it comes to siding, should one choose a luxurious hardwood look and texture, over an easy, straightforward installation? Or vice versa?
You're in luck. Mitten Building Products has stepped in to help with its new line of West Ridge Siding products. Available in double 152.4-mm (6-in.) panels or single 203.2-mm (8-in.) planks, West Ridge replicates the sleek, stylish design of hardboard products, but with locking systems that make installation as easy as it gets. What's more, the single 203.2-mm (8-in.) plank can be installed vertically or horizontally. Each profile also comes available in two new rustic woodgrain finishes with a series of in-demand colours.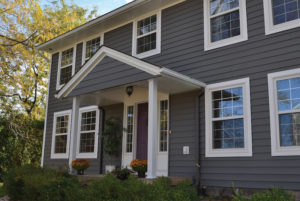 The name West Ridge was inspired by the section of Mount. Everest that's most difficult to climb. So, durability and performance are a key part of the product. Each product carries an 11.68-mm (0.46-in.) thick panel with additional foam backing, providing an increased level of rigidity and strength to withstand the harsh Canadian climate for the long term.
Find out more about this innovative and modern product by visiting mittensiding.com/westridge.
All information listed in this section was submitted by Mitten Building Products..
Kenilworth Media Inc. and Construction Specifications Canada (CSC) cannot assume responsibility for errors of relevance,
fact or omission. The publisher nor CSC does not endorse any products featured in this article.