Lightning-fast commercial waterproofing with polyurea
by arslan_ahmed | November 16, 2022 10:00 am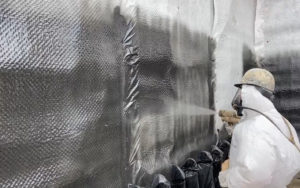 Waterproofing is fundamental to any building design and operation. Without proper water management, the waterproofing of a commercial, institutional, or industrial facility can be easily damaged and have a negative impact on the building and its occupants. Elastochem, a leader in Canadian spray foam systems and solutions, created Hygrothane, a waterproofing system that is designed to withstand the most extreme environmental loads and site conditions.
In commercial construction, the modern and efficient approach to waterproofing is spray applied membranes. Hygrothane is designed to provide a monolithic water-resistant protective barrier on the negative, blind, and positive sides. The unique, fast-applied, rapid-cure formula minimizes downtime, and delivers excellent adhesion to a variety of substrates.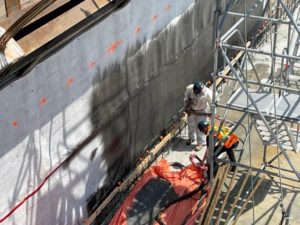 Hygrothane has been tested* and can resist over 91.4 m (300 ft) of hydrostatic pressure.  It has been rapidly gaining popularity over traditional sheet-applied waterproofing due to its seamless application, speed of application, strength/durability, and cost.
The increasing occurrence of weather events requires resilient building materials. Hygrothane is impact, puncture, and abrasion resistant making it ideal to withstand climatic challenges. In addition, it contains no VOCs and is bitumen free making it the preferred choice for sustainability.
Find out more at elastochem.com[3]
*Third party, structurally unsupported testing ASTM D5385
Endnotes:
[Image]: https://www.constructioncanada.net/wp-content/uploads/2022/11/Hygro-02.jpg
[Image]: https://www.constructioncanada.net/wp-content/uploads/2022/11/Hygro-01.jpg
elastochem.com: https://elastochem.com/
Source URL: https://www.constructioncanada.net/lightning-fast-commercial-waterproofing-with-polyurea/
---