Is there really one part of the design workflow you cannot streamline?
July 14, 2021
Is there really one part of the design workflow you cannot streamline?
You can batch-process design files, automate manual tasks, switch to additive technologies for prototyping, and use AI to simulate stress testing, but what about printing?
Increasingly, the best computer-aided design (CAD) tools have built-in artificial intelligence (AI) helping designers, engineers, and architects find the best forms for their intended purpose, helping shortcut the design cycle[1]. This is just one way design professionals are finding new and innovative methods to streamline their work, cut out unnecessary iterations, and get to the result the client needs faster.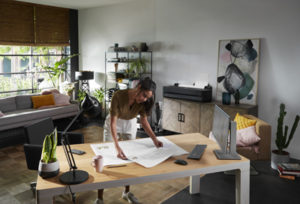 [2]Whether it is 3D printing for faster prototyping[3], gathering data on designs in their environment with augmented reality[4] (AR), or using building information modelling (BIM) to turn schematics into ever-evolving datascapes, designers are constantly finding new ways to make their work more efficient and intelligent.
What about printing?
Printing roughs, client presentations, and blueprints often feels like the one part of the design workflow that cannot be accelerated, except by simply making the print engine faster. So, is this really true?
Building intelligence into the large-format print process
In reality, improving the speed at which the physical parts of the print engine—the latest HP DesignJet plotters print an A1-size design in as little as 30 seconds—is just one aspect of making printing for designers faster, and more integrated into their workflow.
"One of the things we saw clearly in our own design process, was professionals were working in increasingly diverse ways with their projects," said Sonia Grobanopoulos, marketing manager at HP Canada. "They might want to print the same file, or a batch of files, that are different sizes for different purposes or audiences. They might also want to work on a file onsite and then print while in a cab on their way to the next job. Yet, their print workflows did not allow them to do that, without a huge amount of manual configuration and troubleshooting at the very least."
To overcome these challenges and meet customers' evolving needs, HP has released the new DesignJet T200, T600, and Studio Printer series. All three new product ranges are built specifically to help design professionals accelerate their workflows and eliminate unnecessary production overheads.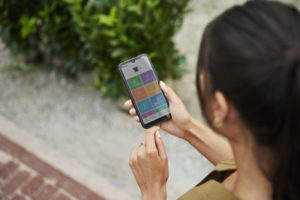 [5]Simplicity that integrates seamlessly into work routine
One of the most effective, and deceptively simple workflow optimizations on the new models is simplified multi-size printing. Without manually switching the media source, one can print files at any size from A0 to A3, at the click of a mouse.
Print submissions have also been simplified overall, allowing one to print multiple files with a single click. Additionally, print times for multiple files are up to two times faster than they are for comparable printers from competitors (three-click printing with HP Click software compared to up to 11 clicks with competitive alternatives when printing five files of different sizes. Applicable to PDF, JPEG, TIFF, DWF, and HP-GL/2 files. Based on testing the HP DesignJet T650 36-in printer, from job prep to print is up to 102 per cent faster than competitive alternatives with comparable size and features as of January 2020).
Another key innovation is the ability to print from any connected device, anywhere. Not only does this allow staff to print from onsite or when they are in transit, it makes it easy for partners and clients to print files, either remotely or when they are visiting offices. In the new, and flexible workstyle of the post-COVID-19 world, this helps one collaborate effectively, smoothly, and at speed—keeping workflows moving.
These features are in addition to the other improvements to the new HP DesignJet printers. They include the extreme simplicity—with an easy-to-use print driver and an improved 'true print' preview mode—and the ability to manage your large-format printer from anywhere, using the HP Smart app.
"The new HP DesignJet T200, T600, and Studio Printer series are large-format plotters designed to produce the highest quality output, and also to automate and simplify workflows, so design professionals can concentrate on their work, not getting the printer to work," said Grobanopoulos. "These new printers are ideal for creative professionals—and prove printing, with the right technology, is absolutely an area that can be streamlined to become even more efficient."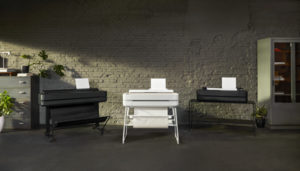 [6]
Endnotes:
shortcut the design cycle: https://www.digitalengineering247.com/article/deep-learning-meets-3d-modeling/engineering-resource-center
[Image]: https://www.constructioncanada.net/wp-content/uploads/2021/06/Opener-11.jpg
prototyping: https://enable.hp.com/us-en-3dprint-rapidprototyping
augmented reality: https://www.architectmagazine.com/practice/integrating-vr-and-ar-into-design-workflows_o
[Image]: https://www.constructioncanada.net/wp-content/uploads/2021/06/Opener2.jpg
[Image]: https://www.constructioncanada.net/wp-content/uploads/2021/06/Opener3.jpg
Source URL: https://www.constructioncanada.net/is-there-really-one-part-of-the-design-workflow-you-cannot-streamline/
---