Introducing Buildings Week, November 30 – December 4, 2020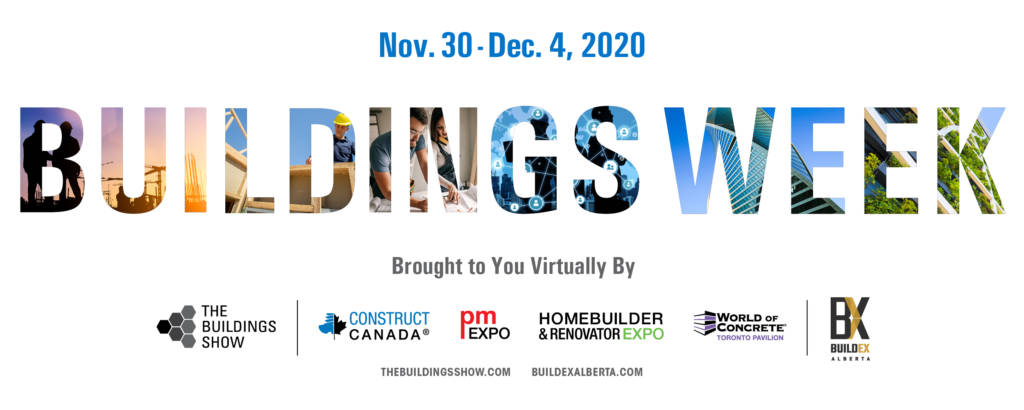 Given the uncertainties facing the industry in 2020 due to COVID-19, The Buildings Show and BUILDEX Alberta are coming together to provide a national digital platform that virtually connects more than 70,000 design, construction, and real estate professionals across Canada at Buildings Week, November 30 to December 4.
The virtual event experience comprised of The Buildings Show | Construct Canada, PM Expo, HomeBuilder & Renovator Expo, World of Concrete Toronto Pavilion, and BUILDEX Alberta, offers everything our stakeholders have come to rely on from our face-to-face events, plus innovative features not possible from the in-person show.
Reconnect with your peers
Powered by Buildings Canada and Informa Connect, Buildings Week provides opportunities for generating new business, continuing professional education, and reconnecting with peers to support the growth and development of our industry now and in the future. This exciting new experience offers you lots of networking opportunities including colleague and client catch-ups, AI-driven matchmaking, networking lounges, association meet and greets, interactive panel discussions, and speaker breakout sessions.
Register to attend.
Tap into Canada's largest industry network
Attendees can explore virtual exhibits and an online marketplace to discover leading product innovations, learn about technical specifications, watch live product demonstrations, connect with clients and colleagues, and much more. While the delivery has changed, the quality is the same. Visit the virtual exhibits and marketplace and get access to top innovators, cutting-edge products, advanced technologies, industry suppliers, service providers, and new partners & Investors.
View the 2020 participants.
Learn from leading industry experts
Over 120 professionally accredited educational seminars, virtual panels, technical presentations, keynote sessions, and professional development workshops will now be offered online. Select seminars and workshops will continue to be accredited by OAA, BOMA, ARIDO, CAHPI, OBEC, AAA, and IDCEC. Find out about current and future trends and challenges impacting your industry through accredited seminars, expert panels, technical presentations, roundtable discussions, professional development workshops, and breakout sessions.
Access the full seminar program.
Showcasing roundtables & features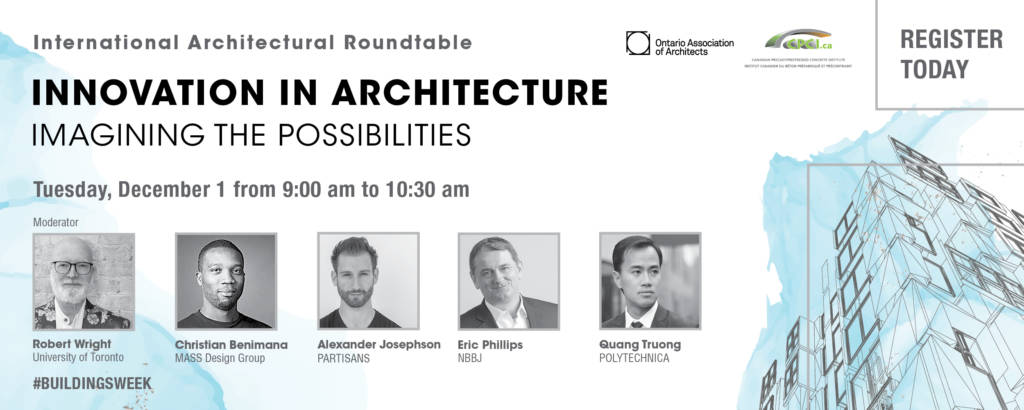 International Architectural Roundtable
Innovation in Architecture: Imagining the Possibilities
Date: Tuesday, December 1
Time: 9 am – 10:30 a.m. ET
Innovation touches every element of architectural design. From concept to the built environment, rethinking the creative process, design, and integration of new technologies, systems, and materials can redefine space. There is a greater need to find inventive ideas and methodologies to meet a new generation of architectural design. Discover a world of possibilities. Join our esteemed panel of inspiring, creative, and inventive international architects that have been innovative in design, construction, process, or materials. Gain inspiration and feel enlightened as the panel of thought leaders discuss their journey of discovery through their high-profile projects.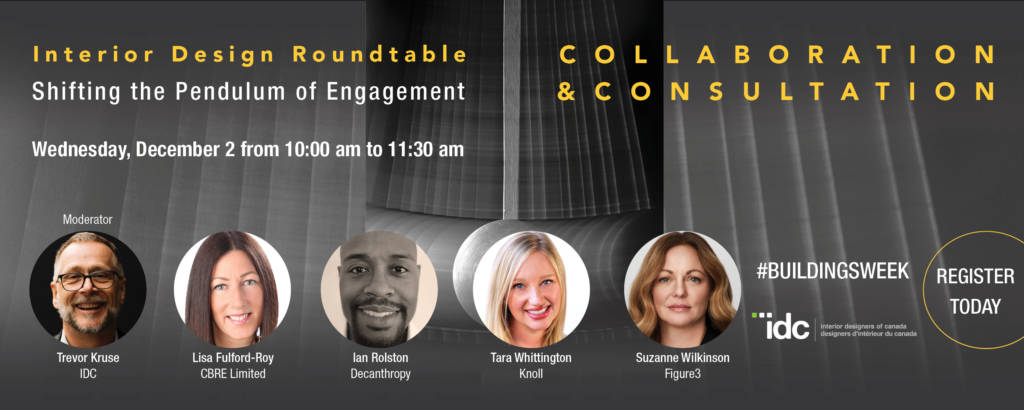 Interior Design Roundtable
Collaboration and Consultation: Shifting the Pendulum of Engagement
Date: Wednesday, December 2
Time: 10 am – 11:30 a.m. ET
How we move through interior spaces has altered significantly. Collaboration and consultation have created new challenges and opportunities to work differently with our clients. Interior designers have a chance to have a larger voice at the front end of the project as the pandemic has forced clients to re-evaluate their spaces. How can we help our clients understand how spaces can be transformed, used, and modified as owners, managers, and builders are forced to rethink space?

Emerging Leader Awards
Date: Wednesday, December 2
Time: 3:30 p.m. ET
The 2nd Annual Emerging Leader Awards recognize members of the AEC community who demonstrate excellence, impress and inspire their co-workers, and are well on their way to becoming the next leaders in the profession. These awards recognize young professionals for excellence in design, leadership, initiative, and/or service to the community. Nominated by a member or members of their team, winners are selected by a jury of peers.
Learn more
BUILDINGS WEEK hours
Supported by TCA, CCA, BILD, BOMA, CABA, Concrete Ontario, Buildings Week connects leading professionals with Canadian, North American, and International suppliers November 30 – December 4, 2020.
VIRTUAL EVENT PREVIEW
Monday November 23 – Friday, November 27
VIRTUAL EVENT HOURS
Monday, November 30, 1 p.m. – 5 p.m.
Tuesday, December 1, 9 a.m. – 5 p.m.
Wednesday, December 2, 9 a.m. – 5 p.m.
Thursday, December 3, 9 a.m. – 5 p.m.
Friday, December 4, 9 a.m. – 1 p.m.
Register today
Registration to the digital platform is free for all industry trade professionals and the early bird deadline for discounted education programming expires Friday, November 13, 2020.
Register to attend.
Grow your business in 2021
Set your business up for success in 2021. Buildings Week helps you transition event attendees from target market and potential customers, to personal connections and new business leads. To find out more, contact Frank Scalisi at Frank.Scalisi@informa.com.
Apply to exhibit.
For more information on how you can participate, visit WWW.THEBUILDINGSSHOW.COM.
All information listed in this section was submitted by Informa Canada - The Buildings Show.
Kenilworth Media Inc. and Construction Specifications Canada (CSC) cannot assume responsibility for errors of relevance,
fact or omission. The publisher nor CSC does not endorse any products featured in this article.

Control the content you see on ConstructionCanada.net!
Learn More.