Innovative insulation solutions for an energy-efficient home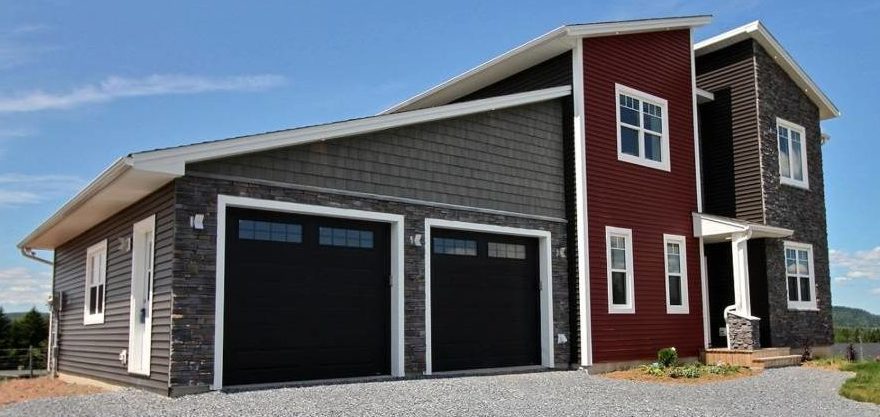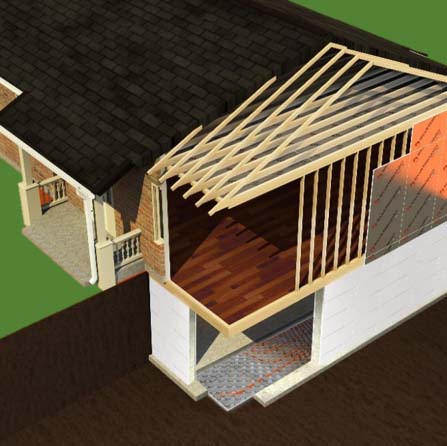 As codes and standards change, it is of utmost importance to constantly find innovative ways to improve the quality and efficiency of homes and buildings. A building is no longer just a combination of forms, blocks, and boards; it represents one's efforts to reduce the community's carbon footprint and build responsibly and sustainably. This means providing home owners, architects, builders, and contractors with the right building solutions to ensure green and energy-efficient construction.
Here we have a look at home insulation solutions (e.g. foundation wall and hydronic radiant heating systems and exterior wall insulation) by Amvic Building System that can enable one to build an energy-efficient home that helps in reducing operational and maintenance costs.
For the foundation of a home, insulated concrete forms (ICFs) are considered environmentally friendly because they use significantly less concrete than traditional foundations, while providing an added layer of insulation to inhibit thermal transfer and help keep heating and cooling costs in check. Energy-efficient homes can also employ ICFs in above-grade walls.
If one is building a stick-framed home, rigid exterior wall insulation by Amvic provides continuous insulation (CI) with a high thermal and flexural performance.
Amvic's Insulated Ampex panel for radiant heating has been specifically designed to provide one of the most cost-effective installation and performance characteristics for hydronic radiant floor heating systems.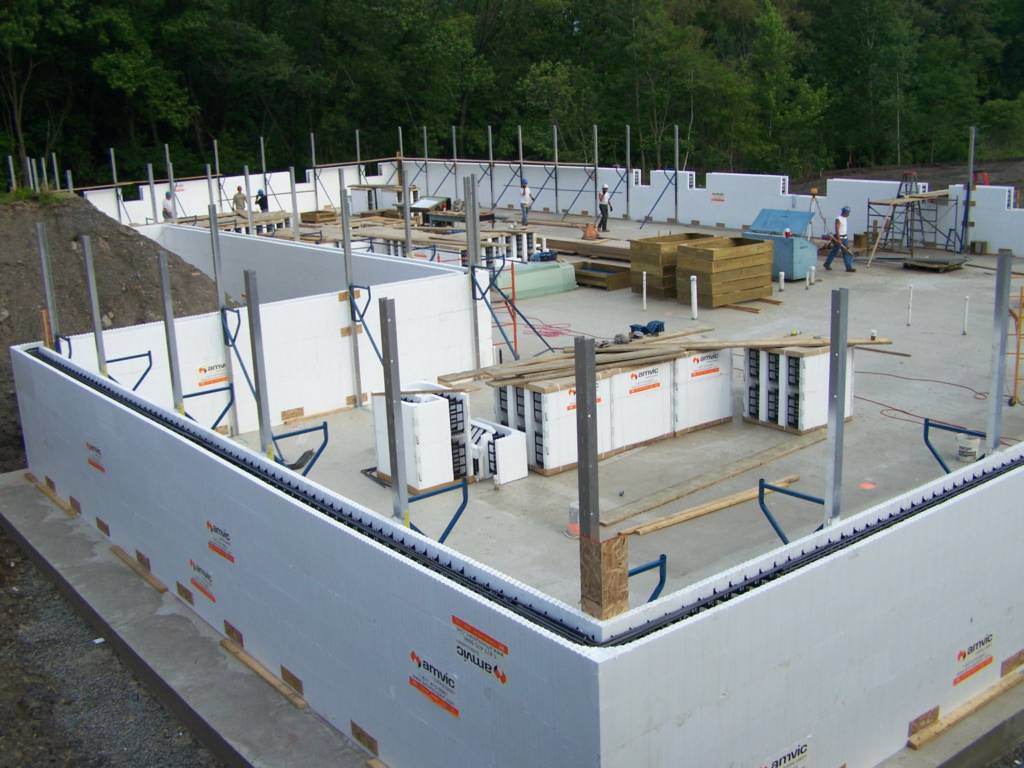 Foundations and basements
Concrete foundations were historically constructed by pouring concrete into temporary forms, which were removed when the concrete was cured. When built with ICFs, foundation forms remain in place and provide ci on each side of the concrete with integrated framing incorporated within the form itself. With ci on both sides of the concrete wall, ICF structures can provide savings in energy consumption and operating costs.
With an innovative design, Amvic ICF can help increase the speed of construction, reduce labour costs, and provide one of the highest levels of performance during and after installation.
The combination of the patented, reversible FormLock interlock, expanded polystyrene (EPS) composition, web design and spacing, and a fully reversible Amvic ICF block ensures a structurally superior wall system.
This five-in-one ICF system incorporates structure, insulation, vapour and sound barrier, and framing.
Amvic ICF building system
The Amvic ICF standard block is a stay-in-place form manufactured using two 63.5 mm (2.5 in.) panels of EPS and held together by polypropylene webs placed 152 mm (6 in.) o.c. A completed Amvic ICF wall offers an R-value of 22 (performance R-value of 50 when concrete thermal mass and airtightness are included) sound transmission class (STC) rating of 50 and a fire rating of more than three hours.
In the Amvic ICF Plus Block, the two EPS side panels have been increased 30 per cent, going from 63.5 to 82.5 mm (2.5 to 3.25 in.) per side, for a total EPS width of 165 mm (6.5 in.). The wider EPS panel increases the R-value of the block from R 22 to R 30 making it one of the highest R-values of any factory assembled block in the industry.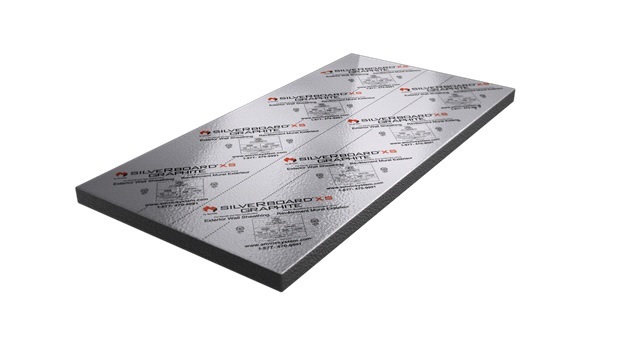 An ICF foundation offers many advantages including:
ICF wall provides a continuous insulated wall with a vapour barrier all the way to the floor joist;
superior structural strength of the foundation/ basement wall;
more efficient heating and cooling of the basement during winter and summer respectively;
improved indoor air quality (IAQ) and superior sound attenuation;
basement walls will be ready for drywall; framing, insulation, or vapour barrier are not needed;
avoid cracked foundation walls and leaky basements as the concrete is protected by the very forms creating its shape;
one trade does the concrete forming, insulation, air and vapour barriers, and framing;
concrete can be placed year around and under adverse weather conditions as well; and
much faster time of construction. In most of the cases analyzed, ICF has saved more than 50 per cent of the time needed to achieve the same result.
Exterior wall insulation
SilveRboard Graphite XS is a cost-effective and higher-performing rigid board insulation ideal for exterior wall assemblies. It has an EPS base material embedded with carbon "graphite" particles, which increases the thermal performance of the insulation.
The graphite EPS beads reflect radiant heat energy similar to the effect of a mirror and increases the materials' ability to resist the flow of heat or R-value, thereby providing exceptional long-term R-value retention and performance. The SilveRboard Graphite XS is available in many sizes and R-value including the common R 5, thereby giving building professionals one of the most efficient R-values per dollar.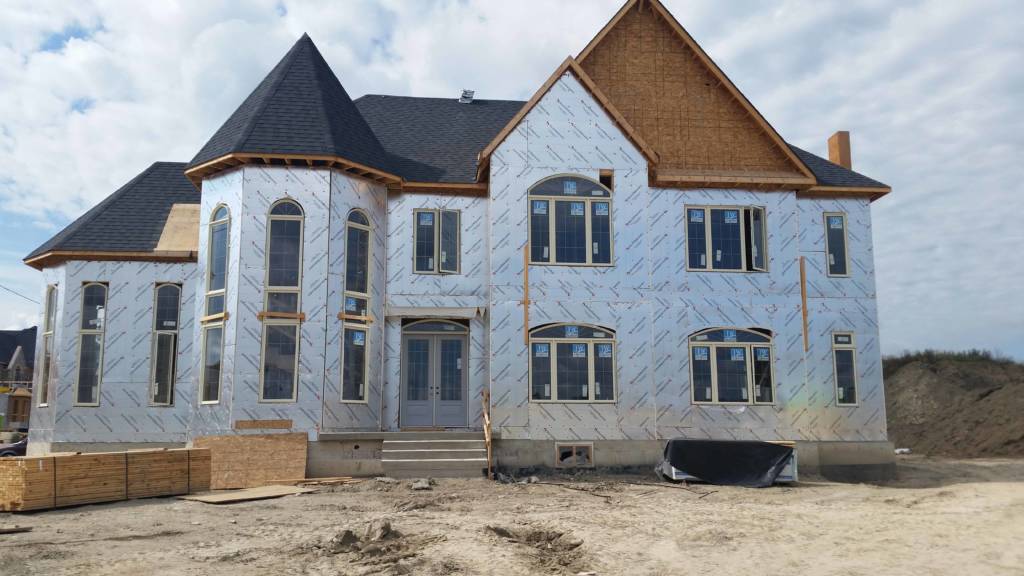 Key product benefits include:
the proprietary high-strength, reflective, metalized film layer on both faces dramatically improves overall board strength and flexibility;
together with the patented micro-perforated film, when correctly taped and flashed, provides the necessary second plan of protection; and
creates thermal envelope for maximum heat/cooling efficiency.
Complying to building code
Chapter 3 requirements of Supplementary Standard SB-12 of the Ontario Building Code (OBC) have increased the energy-efficiency levels for new, low-rise homes by 15 per cent. The minimum efficiency requirements for envelopes and mechanical systems have increased. Amvic's SilveRboard Graphite XS allows builders to cost-effectively meet the requirements of Chapter 3 of Supplementary Standard SB-12 Zone 1 of the Ontario Building Code.
An ideal solution for exterior wall insulation for builders
Available in 12.7 to 152-mm (½ to 6-in.) standard thickness, SilveRboard delivers high performance and maximum value to builders during the construction process including:
offers durability during the construction process and various weather conditions;
accepts taping which adheres quickly and permanently to SilveRboard film;
provides built-in air and moisture barriers and delivers long-term stable R-value;
provides level rigid surface for exterior finish materials and highly flexible for radius walls; and
is lightweight, easy-to-handle, and reduces waste at site.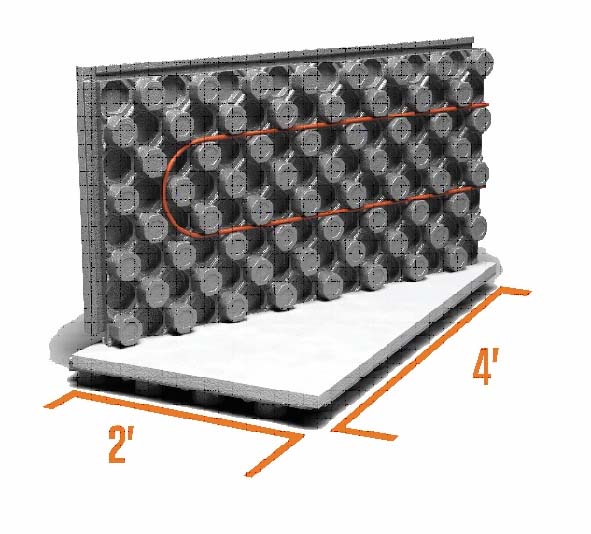 SilveRboard Graphite XS is a more cost-effective and higher performing exterior rigid wall insulation compared to other insulation materials. The colder the climate the higher the thermal resistance or R-value; this property of EPS insulation is not commonly found in other rigid insulation boards.
SilveRboard Graphite XS holds its R-value for the life of the product and is an ideal insulation for exterior walls in the Canadian environment.
Hydronic radiant floor heating
Hydronic radiant floor systems save energy and lower fuel bills because radiant heat performs better at lower water temperatures, enabling one to lower the thermostat. Further savings can be realized as running a high-efficiency boiler at lower temperatures increases its lifespan.
Additionally, hydronic radiant heat is more efficient than other systems because it uses moderately low water temperatures to heat the home. In effect, the entire floor is a radiator, so it does not have to be as hot as conventional radiators. Boilers can heat water to lower temperatures more efficiently than they can heat water to higher temperatures.
The Ampex® Insulated Pex Panel by Amvic Building System is an under-concrete insulated EPS panel for hydronic radiant heating installations. It has been specifically designed to provide easier, faster, and more cost-effective installation and performance for hydronic radiant in-floor heating systems.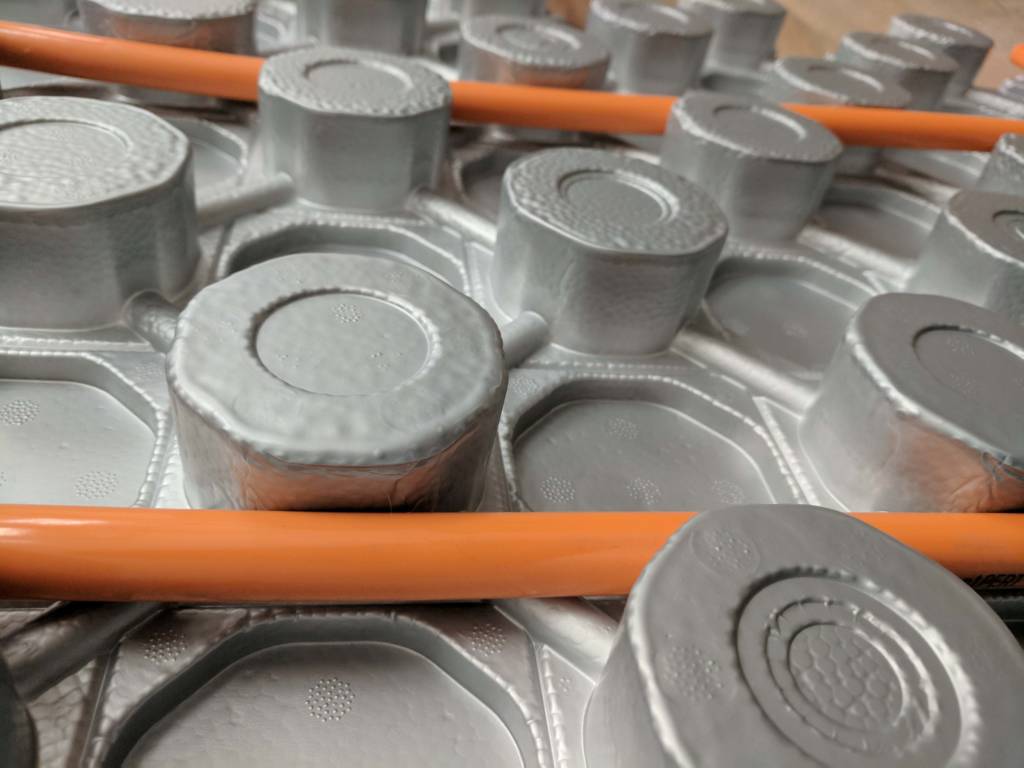 Ampex Panel Design:
The Ampex insulated PEX panel consists of EPS insulation, moulded to high-impact polystyrene film. This combination makes for a stronger, energy-efficient, and resilient interlocking PEX panel.
The high-impact film acts as a vapour retardant and provides high-energy efficiency. The panel has R-values from R 10, R 12, R 14, and R 16 and PSI ranging from 30 to 45 psi (207 to 310 kPa). The oversized, four-sided shiplap interlock makes installation quick, easy, and secure. Additionally, the panel nubs form a mushroom shape, locking the PEX piping firmly in place. Once inserted, it guarantees the pipe is properly positioned and seated in the panel.
The innovative patented panel design with bridging and cavities ensure the PEX tubing will be completely surrounded with concrete and not pushed to the bottom of the panel. This allows for better heat distribution from the radiant tubing and a more efficient energy transfer.
Key benefits
Some of the design benefits with a radiant floor heating system include the elimination of baseboards and floor vents (which can obstruct furniture placement), the ability to effectively use floor-to-ceiling windows without compromising interior comfort, and smaller ventilation ducting for greater ceiling heights.
Radiant heat also does not constantly cycle on and off, causing one to be too hot one minute and too cool the next, and does not blow dust and allergens around the way forced hot air systems do, thereby improving IAQ. It also does not dry out the air, which, in turn, dries out nasal membranes. Additionally, radiant heat is relatively draft-free. There are no supply and return registers or convection-reliant radiators, and there is less air leakage around doors and windows. Lastly, the air inside the home tends to be cleaner because dust and allergens are less likely to be stirred up by moving air currents.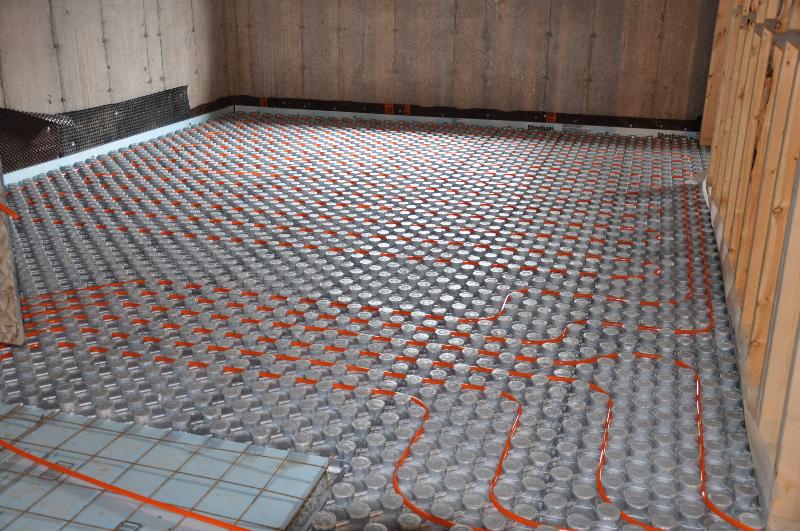 Residential radiant heating applications
Homeowners can choose to have hydronic heating throughout their entire home, which can eliminate the need for forced air units and reduce utility bills.
Typical common living areas for floor heating include the basement, bathroom, the family room, garage, and even the kitchen. It can also be used in snow-melt applications for walkways and driveways. Best of all, radiant floor heating is compatible under any type of floorcovering—carpet, wood, slate, tile, stone, laminate, and even concrete—making design possibilities endless.
Click here to learn more about the various insulation solutions by Amvic Building System.
Constructing durable, resilient, environmentally-friendly and resource-efficient homes begins right from the building's life cycle; from the planning phase and into the construction, operation, and maintenance stages. In today's day and age, it is important  to take proactive measures to ensure sustainable and energy-efficient construction to contribute to building safer communities and providing a healthier way of life for years to come.
All information listed in this section was submitted by Amvic Inc.
Kenilworth Media Inc. and Construction Specifications Canada (CSC) cannot assume responsibility for errors of relevance,
fact or omission. The publisher nor CSC does not endorse any products featured in this article.

Control the content you see on ConstructionCanada.net!
Learn More.