The reasons for choosing IKO are all around you
by nithya_caleb | November 7, 2018 12:00 am
The reasons for choosing IKO are all around you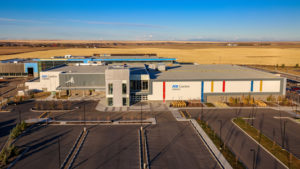 [1]The ATB Centre Arenas, Phase I project, in Lethbridge, Alta. employed IKO[2]'s signature commercial roofing and building envelope products, including the dependable IKO two-ply styrene butadiene styrene (SBS) roofing system and an IKO AquaBarrier air and vapour barrier (AVB) system. This three-story municipal sports facility includes both ice skating and curling facilities for the City of Lethbridge, Alta.
The challenge
Alan Roberts, manager for installing roofing contractor Charlton & Hill Roofing of Lethbridge, talks about the multiseasonal installation for this nearly two-year project.
"Work on a multistory facility during the rainy season and winter in Alberta presents several challenges for roofing contractors, including rain, mud, wind, snow, and ice. Our crew was ready for the project, with all the right gear and the right IKO products, so the project went along smoothly," says Roberts.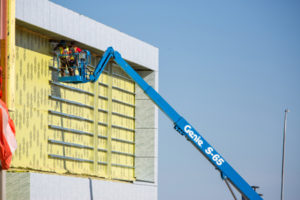 [3]
The solution
A comprehensive IKO building envelope solution was installed on this project, including a durable Torchflex roofing system and AquaBarrier AVB system.
"IKO provides a good product and good support for us," Roberts comments. "They made a site visit to the project to make sure everything went together well. The IKO technical team is very responsive."
IKO roof system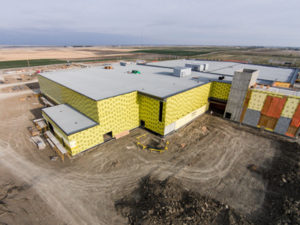 [4]
13 mm (1/2 in.) gypsum board;
IKO #15 perforated felt;
IKO Easy-Melt™ 200 (Type III) asphalt 76 mm (3 in.);
IKO therm insulation;
IKO Modiflex™ MF-95-FS-Base; and
IKO Torchflex™ TP-250-Cap.
IKO wall system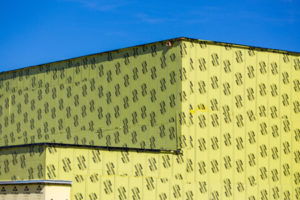 [5]
IKO AquaBarrier™ AVB;
IKO S.A.M.™ adhesive;
mineral fibre insulation; and
metal cladding and masonry block.
Commercial warranty issued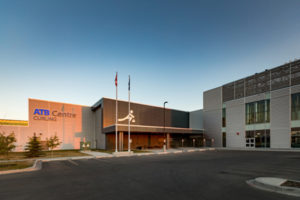 [6]
The roof is warranted with a 10-year certificate of assurance (COA) through the Alberta Roofing Contractors Association (ARCA). The wall system has a five-year IKO material warranty.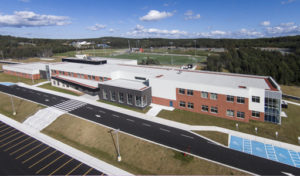 [7]Brookside Intermediate School
The new $24 million Brookside Intermediate School is a two-story building located near the town hall of Portugal Cove-St. Philip's, N.L. The grades five through nine school includes a gymnasium, commercial kitchen, library and resources centre, home economics room, science labs, a technology and fabrication lab suite, two music rooms, an art room, and a computer lab. With 31 classrooms, the school was designed for approximately 500 students and can accommodate up to 700.
The challenge
The Brookside Intermediate School project demanded a rugged mechanically attached two-ply SBS roofing system that would perform well in the extreme weather conditions common to the province.
The solution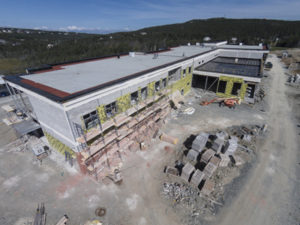 [8]
This signature IKO project provides outstanding performance in both roof and wall systems. IKO Enerfoil™ was utilized as the masonry cavity wall insulation due to its high R-value per inch and weather-resistant aluminum facers. IKO's AccuCut™ custom-cutting system was employed to ensure the best fit possible for the wall insulation.
"Building envelope contractors have been asking for this factory-milled cutting service, and we are pleased it is now available across Canada," says Tim Wrigley, IKO Atlantic provinces technical manager.
From the through-wall flashing, air barriers, insulation, and mastics on the walls to the durable two-ply SBS modified-bitumen roofing system, this IKO building envelope package offers a sustainable solution that is ideally suited to a school environment.
IKO wall system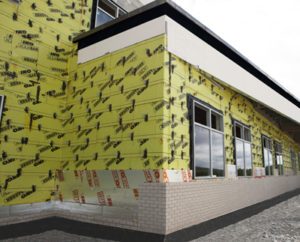 [9]
IKO AquaBarrier™ AVB;
IKO AquaBarrier through-wall flashing;
IKO AquaBarrier mastic;
IKO SAM™ self-adhering membrane adhesive; and
IKO Enerfoil 102-mm (4-in.) insulation (factory-sized with IKO's proprietary AccuCut System).
IKO two-ply modified-bitumen roofing system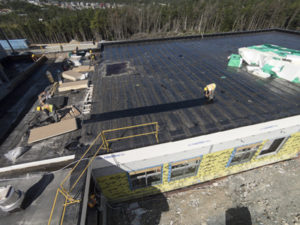 [10]
IKO MVP™ vapour retarder;
IKO SAM self-adhering membrane adhesive;
IKO Millennium™ adhesive;
gypsum deck board;
IKOTherm™ flat and tapered insulation;
IKO Protectoboard™ 3-mm (18-mils) coverboard;
Torchflex™ TP-180-FF base sheet;
Armourbond™ base sheet flashings;
Torchflex TP-250-Cap sheet and flashings.
Commercial warranty issued
The IKO AquaBarrier waterproofing material and the IKO 10-year labour and membrane (L&M) limited warranties were issued.
Endnotes:
[Image]: https://www.constructioncanada.net/wp-content/uploads/2018/10/1-4.jpg
IKO: http://IKO.COM/COMM
[Image]: https://www.constructioncanada.net/wp-content/uploads/2018/10/2-3.jpg
[Image]: https://www.constructioncanada.net/wp-content/uploads/2018/10/3-1.jpg
[Image]: https://www.constructioncanada.net/wp-content/uploads/2018/10/4-1.jpg
[Image]: https://www.constructioncanada.net/wp-content/uploads/2018/10/5.jpg
[Image]: https://www.constructioncanada.net/wp-content/uploads/2018/10/6.jpg
[Image]: https://www.constructioncanada.net/wp-content/uploads/2018/10/7b-1.jpg
[Image]: https://www.constructioncanada.net/wp-content/uploads/2018/10/7.jpg
[Image]: https://www.constructioncanada.net/wp-content/uploads/2018/10/roof.jpg
Source URL: https://www.constructioncanada.net/iko-project-profiles/
---