Expert solutions from Brady for your construction site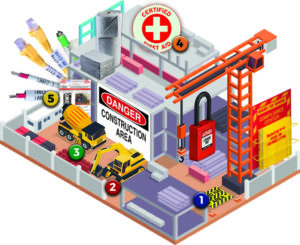 Brady is a manufacturer of complete solutions that identify and protect people, products, and places. Brady's products help construction sites increase safety, security, productivity, and performance, and include high-performance labels, signs, safety devices, printing systems, and software. This article concentrates on the following Brady solutions for construction sites.

Area marking
Solutions for all your area marking needs. Consider pipe marking, floor tape, social distancing, and facility signage.

Lockout tagout
A start-to-finish solution for lockout tagout including locks and lockout tagout devices and services to develop and maintain procedures.

Sorbents
A full solution including absorbents and spill containment products that help you keep your employees and work environment safe from unexpected spills, leaks, drips, or other accidents.

On-demand printing
Print custom pipe markers, signs, and a wide variety of safety labels exactly when you need them.

Services and software
Software and training available in lockout tagout, confined space, and arc flash beyond construction needs for long-term support opportunities.

Visuals keep employees safe. An effective visual workplace tells employees exactly what procedural and safety information they need to know and when and where they need to know it. Communicating messages visually prevent dangerous incidents.
Did you know that 75 per cent of knowledge is gained through visuals, 13 per cent through hearing and 12 per cent through smell, touch, and taste?
Visuals reduce waste. Waste is often caused by information gaps. Employees simply not knowing the best way to get the job done. Instead, time is wasted searching, waiting, retrieving, and doing rework. Time wasted on construction sites means money wasted.
Visuals improve productivity. When visuals help to make processes more efficient, reduce equipment downtime, keep employees safe, and facilities more organized, then operations overall become more productive.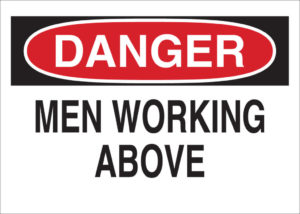 Brady construction site signs communicate safety, restricted access, and admittance and traffic messages in regards to construction areas. Legends include Warning, Danger, Caution, Notice, and more to keep your employees and construction site visitors safe.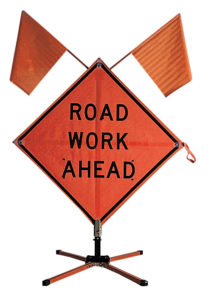 Road construction signs are a highly visible, effective way to warn employees, pedestrians, and visitors of the potential dangers of construction areas. These bright orange road construction signs indicate a wide range of warnings including employee locations, temporary road closings, traffic lane closings, shoulder closings, and more. Offered in a variety of sizes, these road construction signs are also available in mesh, reflective vinyl, aluminum, and fibreglass.
Safety and facility signs are a necessary and required component for warning and communicating messages or notices to your employees, customers, and the general public.
In order to provide a clear and concise message, the sign must meet a variety of requirements and standards. Selecting and placing a safety sign in your facility is more than a workplace requirement, but an opportunity to prevent costly accidents or dangerous hazards within your facility.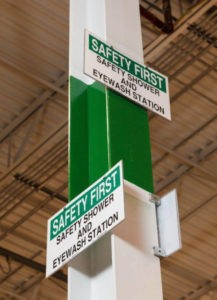 Top five things to consider when choosing safety signs
1. Comply with applicable regulations
Several regulating bodies come into play when posting signs throughout your facility. Familiarize yourself with these regulations to increase safety and avoid costly fines.
2. Display a clear and visible message
The header you select is directly tied to the severity of the hazard. Make sure you are communicating the correct message with the right sign headers.
3. Use visually intuitive pictograms
Seventy-five per cent of knowledge is gained through visuals. Use pictogram visuals to convey your message quickly and more accurately in multi-language environments.
4. Location, location, location
Location is extremely important when it comes to sign placement. Make sure your signs are posted at eye level and in highly visible locations.
5. Use the right material for your application
Brady offers a wide variety of sign materials for unique applications throughout your facility, but make sure you are choosing the right material to avoid having to replace the sign more frequently than needed.
Brady offers reliable safety identification solutions that can be made compliant with any legislation or standard. Cannot find the right sign? Design custom signs that meet your exact specifications. Visit www.bradycanada.ca/signs.
All information listed in this section was submitted by Brady Canada.
Kenilworth Media Inc. and Construction Specifications Canada (CSC) cannot assume responsibility for errors of relevance,
fact or omission. The publisher nor CSC does not endorse any products featured in this article.

Control the content you see on ConstructionCanada.net!
Learn More.