Esthetics plus acoustics contribute to continued growth of metal ceilings
by Rick Loufek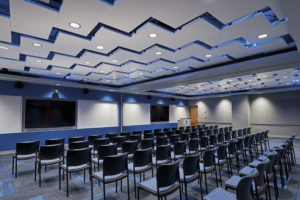 The use and popularity of metal ceiling systems in commercial applications continues to grow.
One of the main reasons for their popularity is the sleek, upscale, high-tech look metal brings to a space. This sophisticated look makes them ideal for use in high visibility areas such as lobbies, conference rooms, corridors, theatres, and transportation terminals, along with a variety of corporate, retail, and hospitality environments.
Durability is another reason for their growth. Metal ceiling panels are often chosen over other options because of their service life, especially in areas where access to the plenum is frequent or where the ceiling is exposed to occupant interaction, frequent cleaning, or other potentially damaging situations. Humidity resistance and low maintenance are other important considerations in the selection of metal.
Metal ceilings also provide solutions for spaces with specialized needs. In correctional facilities, metal security ceiling panels are tamper-resistant and feature concealed locking for non-accessible plenum areas to protect against contraband concealment. In radiant ceiling systems, hot or cold water circulates through concealed copper tubing on the back of metal ceiling panels to provide heating and cooling with minimal air ventilation requirements.
Esthetics plus acoustics
Metal ceilings can also provide very effective acoustical control in addition to their durability and eye-catching esthetics. In order to achieve the acoustic benefits, however, panels must be perforated and backed with a sound-absorbent liner, usually in the form of a thin black acoustical fleece, mineral fibre panels, and/or an encapsulated fibreglass infill. In typical backloading applications, the material is laid on top of the perforated metal panels with an air gap between the material and the deck.
Esthetically, a myriad of perforation patterns are available in standard and custom options. Additionally, Armstrong Ceiling & Wall Solutions has introduced MetalWorks™ Create!™, a custom perforation capability that transforms artwork and other images into metal ceiling panels to generate a unique visual along with acoustical performance.
Offered in variety of finishes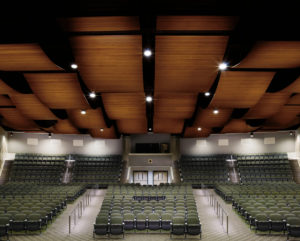 Long popular in European commercial design, today's metal ceiling systems are offered in a wider variety of sizes, forms, and shapes than ever before. Most are manufactured from electrogalvanized steel or aluminum, and many feature a factory-applied powder-coated finish for added durability.
Metal ceilings are also offered in a variety of finishes that co-ordinate with other interior metal finishes to impart a very high tech look to a space. It is this sophisticated look that helps make metal ceilings ideal for use in high visibility areas. The most popular colours are white, silver grey, and gun metal grey with custom colors available as well.
Today, there are even metal ceiling panels that offer the rich, warm look of wood but at a much more affordable cost than real wood.  MetalWorks Effects™ Wood Looks ceilings from Armstrong are an example. These ceilings are made possible by a technology that actually embeds a realistic image of maple, cherry, walnut, and other wood species onto the surface of the metal ceiling panel. The powder-coated finish produces a consistent colour tone and grain, greatly reducing the variations that occur in real wood panels.
Plenty of shapes and forms
In terms of shapes, the most common choice is a 2×2 panel although metal ceilings are also available in geometric, linear, and plank versions as well as radial and curved systems in an assortment of sizes.
Other choices include Serpentina® ceiling systems from Armstrong, undulating three-dimensional metal ceilings that are available in 'hills' and 'valleys' to create a distinctive effect. A variety of Armstrong Formations™ 'free-floating' ceiling clouds and canopies are also offered with crisp Axiom® trim. Kits make installation faster and easier, as they contain all the components required for the job.
Ease of installation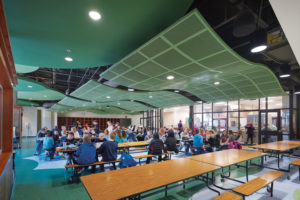 Metal ceilings install easily in standard suspension systems and integrate well with standard light fixtures, including high hats and linear and geometric lighting.
Many metal ceilings are designed for installation in 23 mm (15/16 in.) exposed tee suspension systems, which makes them ideal for renovation applications as well as new construction. Since there is no need to replace an existing suspension system, renovation projects can be completed quickly. Other metal ceilings can be installed in 14 mm (9/16 in.) suspension systems.
Assistance available
The increasing popularity of metal ceiling systems has resulted in the need for much more collaboration between architect, contractor, and ceiling manufacturer, especially in the case of custom installations.
To meet this need, Armstrong has established the You Inspire™ Solutions Center, a consultative design service that provides project management for a ceiling system from concept to completion. It comprises specialists with expertise in both design and installation whose sole mission is to partner with architects and contractors in the implementation of signature ceilings.
Rick Loufek is director of MetalWorks for Armstrong Ceiling & Wall Solutions in Lancaster, PA. For more information, visit armstrongceilings.com/metalworks.
All information listed in this section was submitted by Armstrong World Industries.
Kenilworth Media Inc. and Construction Specifications Canada (CSC) cannot assume responsibility for errors of relevance,
fact or omission. The publisher nor CSC does not endorse any products featured in this article.

Control the content you see on ConstructionCanada.net!
Learn More.