Envirostrap 2-in-1 solution: Continuous rigid insulation with integrated strapping by Amvic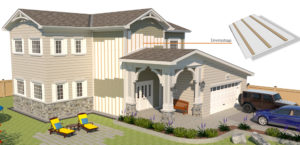 Amvic is pleased to introduce a rigid foam Insulation with integrated strapping—Envirostrap. Envirostrap is a rigid insulation board made from closed-cell expanded polystyrene (EPS) with three integrated furring strips on one side. This highly effective combination of materials offers a 2-in-1 solution incorporating insulation and finish attachment surfaces that can be used for both above grade and below grade interior applications. The furring strips can either be fully recessed inside the foam for interior finish installation or can protrude from the surface of the foam by 19mm (¾ in.), creating an air gap that is needed for exterior cladding installation.
The three furring strips are located every 406 mm (16 in.) on each panel and are 63 mm (2.5 in.) wide and make for an easy installation of finishes such as siding or gypsum board (drywall). The combination of the thicker strips 25 mm (1 in.) with the spacing and width provides the user with the widest range of warranty compliance by the various siding manufacturers.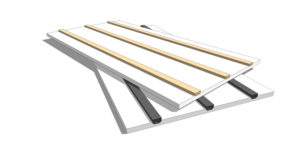 The furring strips are made from plywood in order to eliminate bowing and warping that can be found in typical dimensional lumber. For instances where wood cannot be used due to potentially increased moisture issues, the panels can be ordered with plastic strips giving the user excellent flexibility.
Envirostrap comes in a (1.2×2.4 m (4×8 ft) sheet size with various thicknesses ranging from 51 mm (2 in.) to 102 mm (4 in.). Boards with higher thicknesses are available by special order. Boards with drainage patterns on one side are also available by special order.
 About Amvic Building System
Amvic Building System is based in Toronto, Ont., with additional manufacturing plants in Ontario and Calgary, Alta. Amvic is an industry leading manufacturer of EPS building materials. The main product lines sold across North America include Amvic Insulated Concrete Forms (ICF), AmDeck Floor & Roof System TM., SilveRboard, SilveRboard XS, SilveRboard Graphite XS, Envirosheet, Envirosheet Graphite, and Amvic Insulated Panel for Hydronic heating and Amdry Insulated Subfloor.
Amvic products consistently exemplify exceptional quality, superior strength, and ease of installation. In addition, they result in long-term cost savings, offer superior comfort, and are environmentally friendly. Amvic has also aligned with several factories in the United States and internationally to produce high quality, energy-efficient products.
All information listed in this section was submitted by Amvic Inc.
Kenilworth Media Inc. and Construction Specifications Canada (CSC) cannot assume responsibility for errors of relevance,
fact or omission. The publisher nor CSC does not endorse any products featured in this article.

Control the content you see on ConstructionCanada.net!
Learn More.