Ensure worker safety on rooftops: Performing a hazard assessment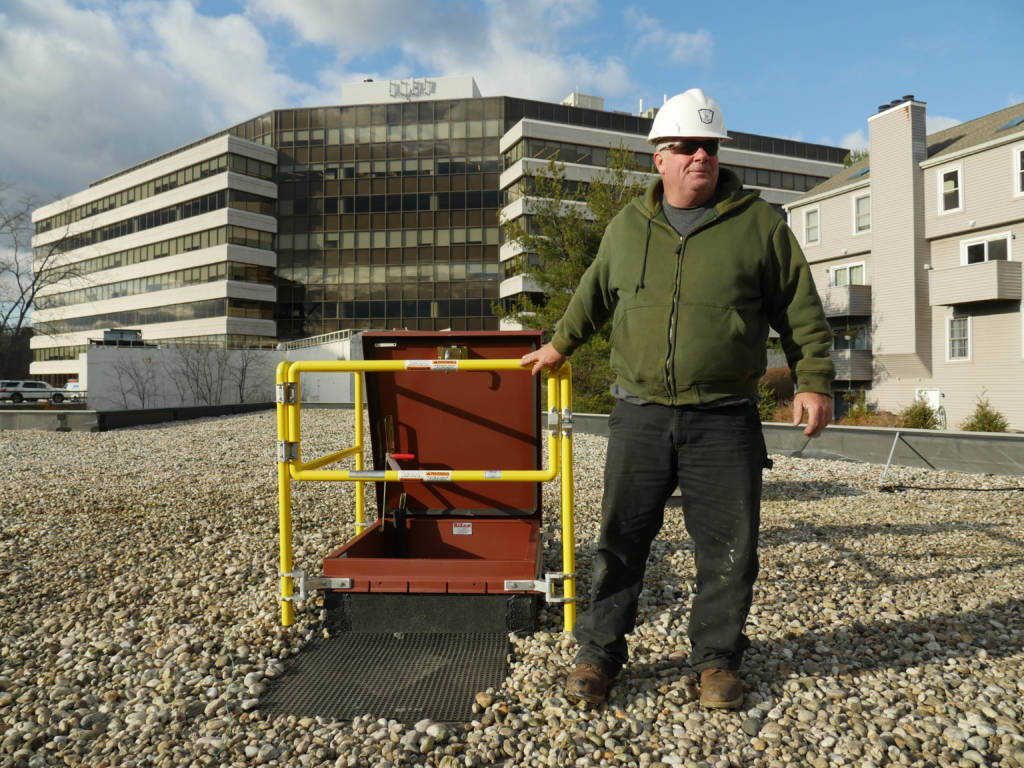 Every workplace wants to be compliant with Occupational Safety and Health Administration (OSHA). Stop-work orders are costly and demoralizing to your workers. Shutdowns cost time, and lawsuits can cost money or, in the worst-case scenario, bankrupt your company. However, accidents do happen. According to the U.S. Department of Labor, between 2011 and 2013, nearly 300 "falls to lower level" workplace fatalities were reported. To minimize these injuries, OSHA enforces a number of fall protection regulations to help make rooftops a safe work environment.
Just as putting off a little bit of yard work this weekend can turn into a bigger headache when you do get around to it, taking a trip up to your building's roof to assess its safety status is well-advised now that most of the winter weather is behind us. It is a good idea to check your roof at least once or twice a year, especially if there is not frequent activity up there. On the other hand, if you have employees or contractors up there every few weeks for various reasons, make sure you have a risk reporting policy in place so someone is notified if anything looks amiss.
So, how can you keep anyone on your roof safe? In this brief article, we will look at how to identify fall hazards, implement fall hazard solutions, and develop an action plan for your workplace.
Identify potential fall hazards
A fall hazard in the workplace is anything that might cause a worker to lose his or her balance or bodily support, resulting in a fall. It takes most people one-third of a second to be aware of a fall, and another one-third of a second to react. The average person can fall up to 2 m (7 ft) in that short two-thirds of a second, and up to 5 m (16 ft) in a full second. That height can create serious injuries. Further, working on or around rooftops includes two of the Bureau of Labor Statistics' (BLS') top five fall accident categories: ladders and "falls to lower level."
Fortunately, fall hazards are foreseeable, and the bare minimum for identifying and eliminating such hazards is common sense. Sometimes, it is as simple as completing a visual inspection and asking yourself, "Could someone fall here?" Elevator shaft openings are an obvious potential fall hazard, but some other factors that contribute to fall accidents can include scaffolds, rooftops, ladders, elevated work surfaces, and even machinery blocking clear lines of sight.
The most logical place to start when performing an assessment of fall hazards is to review your accident and illness reports. Are there areas that seem to have more accidents or injuries than others? Is there one type of injury that gets reported more often? If you are lucky, there is nothing out of the ordinary in the injury reports.
Then, ask your staff about near-misses or close calls. Sometimes a close call can indicate an area that could become a major concern if left unaddressed. If there is a higher number of ladder-related injury reports, start by inspecting your equipment. Broken or loose rungs, corrosion of metal, or missing grips are all good reasons to replace older equipment.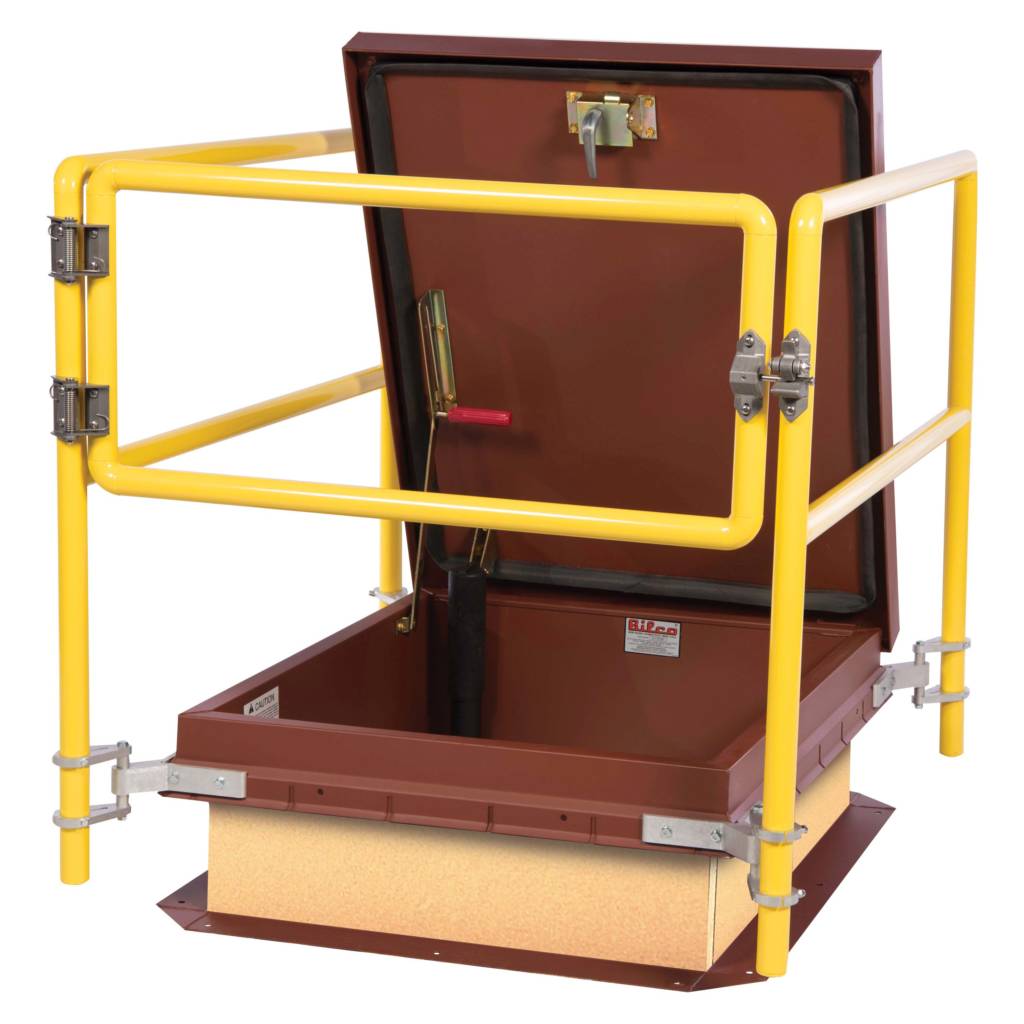 Next, it is time to get up on the roof itself. Does the roof have the structural integrity to safely support employees and their equipment during whatever activities may be required? Take a walk-through of the roof areas where work may be occurring. Involve your employees, especially supervisors whose workers are most likely to be involved, as they will know best what is required for various activities.
Identify what specific jobs or activities will likely be performed on the roof. When considering these jobs, determine if your employees could be exposed to any of the following:
unprotected sides or edges;
floor holes;
wall openings and hoist zones;
slippery surfaces;
portable ladders and/or stairways;
large equipment that blocks views of other hazards;
obstructions; and
scaffolds.
Once these and other hazards have been assessed, determining how frequently work will be performed on the roof, as well as how many employees could be exposed to a fall hazard, will help in creating a hazard reduction plan.
The person or persons conducting a hazard assessment should be fully competent in recognizing and evaluating fall hazards, possessing practical knowledge, relevant experience, and some education as to what constitutes a hazard. This could be an Environmental Health and Safety (EHS) supervisor or other safety management employee. Employees and supervisors should also be consulted, as they have first-hand experience in the roof environment and can point out potential trouble spots.
Analyze risks and implement solutions
You have been on your roof, seen what hazards may be there, and talked to your employees. The next step is to analyze just how bad the risks are. Are they life-threatening or just a possible trip-and-fall hazard? Ideally, you want to prevent all falls, but one can never foresee every situation that could lead to a fall. If you cannot eliminate fall hazards entirely, the best alternative is providing fall protection.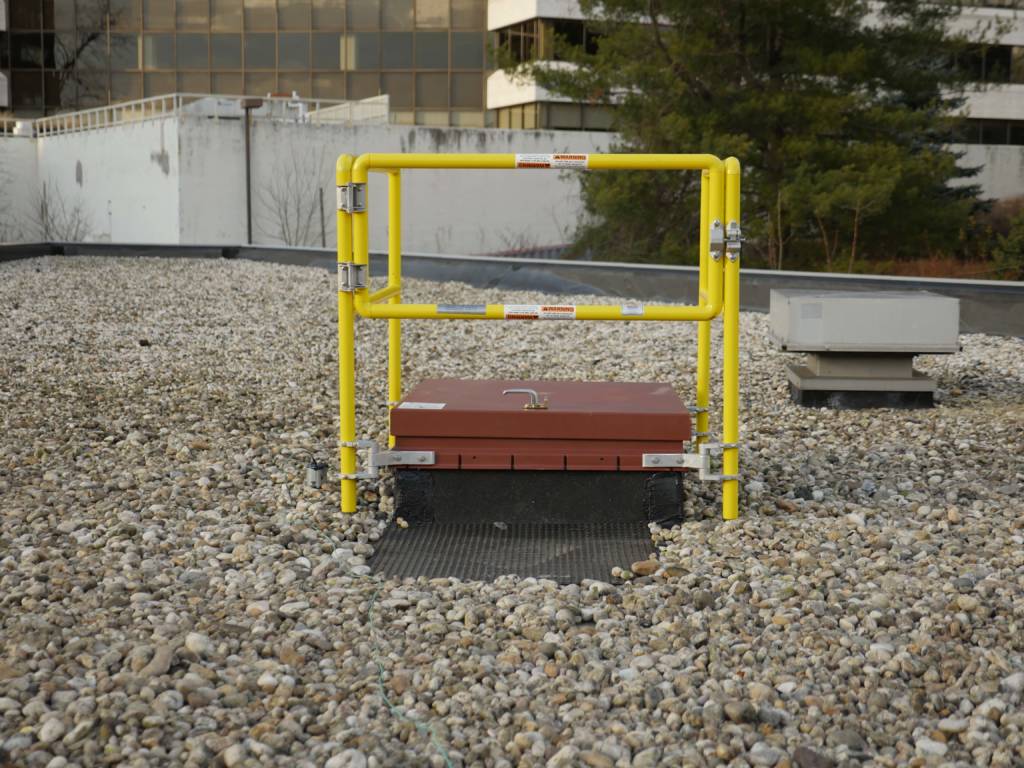 As different activities and jobs could be taking place at different times on your roof, one must take into consideration each separate activity and how to protect against inherent fall hazards. Consider the height of the roof to the next level, the types of equipment needed for each type of fall protection, and how implementing such a system would impact the infrastructure of the roof. Of course, more frequent work requires the greatest consideration, as compared to a potential job that may happen only once a year.
Fall protection systems either prevent a fall from occurring or arrest a fall in progress. Typical systems include the following types:
personal fall arrest;
guardrails;
safety nets;
fall restraint;
positioning devices;
warning lines;
safety monitoring; and
controlled access zones.
End results: Training and monitoring
Whatever strategy for fall protection you implement—whether it is a single solution or combination of various types of equipment to address multiple uses—you must train your employees in how to properly use and maintain the equipment. OSHA requires that any employees who may be exposed to fall hazards be trained in recognizing said hazards and how to minimize their own (and their colleagues') exposure to them. Training must be administered by a knowledgeable, competent trainer, and written certification of training must be provided.
Once the fall protection system is in place and employees are trained, periodic inspections, audits, and monitoring are recommended. The old adage, "If you don't use it, you lose it," holds true for any employee training, especially if roof work and fall protection are an infrequent aspect of the job. Make sure your roof-safety-trained employees can demonstrate their knowledge of how to use the equipment properly at least once a year.
Additionally, periodic inspections of the equipment—whether in storage or onsite where it is to be used—are recommended. A fall restraint system is useless if the equipment is frayed or worn.
As always, a robust employee safety program should be promoted and implemented throughout your workplace—not just on the roof. Encourage your employees to conduct routine safety meetings, review proper procedures, and have an in-depth knowledge of fall hazards and how to protect themselves from them.
All information listed in this section was submitted by Bilco.
Kenilworth Media Inc. and Construction Specifications Canada (CSC) cannot assume responsibility for errors of relevance,
fact or omission. The publisher nor CSC does not endorse any products featured in this article.