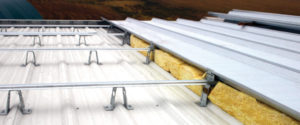 The Robertson Thermal System (RTS) from Robertson Building Systems is the most efficient way to add more R-value to your building. Accommodating up to 457.2mm (18 in.) of compressed insulation, RTS provides an effective thermal barrier for energy efficient roof and wall systems.
Ideal for both new and retrofit construction, the cost-effective RTS is easily customized to provide the level of energy efficiency required for your building. RTS can provide up to R-61 (R28 + R13 + R20) insulation and has a tested U-factor of 0.025 BTU/hr-ft-F (0.143 W/m2-K).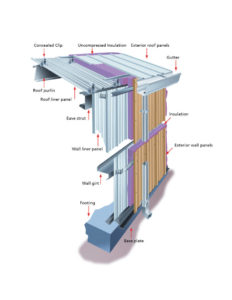 The interior liner panel in the RTS system serves as a vapor retarder to protect insulation and attaches to the top of purlins to act as a working platform for ease of installation. On the inside of the building, the liner panel protects insulation and provides an attractive, durable, and clean interior.
Robertson Building Systems has a highly trained network of authorized builders that can provide professional design and construction services, as well as a single-source solution to deliver a complete turnkey project. When it comes to designing and building, Robertson is the trusted Canadian expert for any build to meet short or long-term goals.
All information listed in this section was submitted by Robertson.
Kenilworth Media Inc. and Construction Specifications Canada (CSC) cannot assume responsibility for errors of relevance,
fact or omission. The publisher nor CSC does not endorse any products featured in this article.