Crystalline technology: A cure for the natural deficiencies in concrete
November 20, 2019
Crystalline technology: A cure for the natural deficiencies in concrete
Since its construction in the 1930s, the Milner-Gooding Canal has provided vital water to the farmers in and around Shoshone, Idaho, U.S.A. Recently a concrete flume on the canal which was showing extensive deterioration due to freeze-thaw attack has been restored with Xypex crystalline waterproofing materials.
Concrete, perhaps the most widely used material in modern building construction, is by its very nature and structure susceptible to damage from water and chemical penetration. Concrete is the primary material employed to construct everything from the foundation walls, floor slabs, and precast exterior cladding of high-rise buildings to the water and wastewater treatment structures, tunnels, manholes, and other infrastructure so vital to modern cities. All are subject to deterioration caused by the penetration of water and water-borne chemicals. Examples range from things as simple as a damp basement to the more complex such as deterioration caused by chlorides or other aggressive chemicals.
Concrete is a mixture of rock, sand, cement, and water. The rock and sand form the aggregate base for the concrete. The mixture of cement and water provides a paste that binds the aggregates together. As the cement particles hydrate and form calcium silicate hydrates, the whole mixture hardens into a solid rock-like mass.
To make this mixture workable, easy-to-place, and consolidate, more water than necessary for the cement's hydration is used. This extra water, known as the water of convenience, will bleed out of the concrete, leaving behind pores and capillary tracts. This means that although concrete appears to be a solid material, it is, in fact, both porous and permeable.
Despite the use of additives to reduce the amount of water in the concrete mix while still maintaining its workability, pores, voids, and capillary paths are formed in the concrete. These pathways can carry water and aggressive chemicals into the structural elements and eventually corrode the steel reinforcement and deteriorate the concrete, thus jeopardizing the structure's integrity.
This article concentrates on how crystalline technology can be used to both fill these voids and make concrete waterproof and more durable. Crystalline technology has been called a cure for the natural deficiencies inherent in concrete.
Why concrete is porous and permeable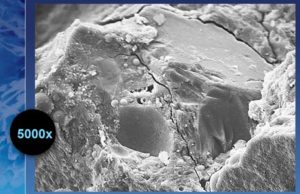 Let us learn a little more about the structure of concrete and how it allows water and water vapour to pass through it so freely. The first thing to know is that concrete is porous. Porosity is defined as the amount of voids left in concrete expressed as a percentage of the total volume of a material. Permeability, on the other hand, is an expression of how well the voids are connected. The interconnectedness of the voids creates pathways that allow the movement of water into and through the concrete (Figure 1).
Permeability is a broader term than porosity, the ability of liquid water under pressure to flow through porous material. Permeability is described by a quantity known as the permeability coefficient (i.e. D'Arcy's Coefficient). While low water permeability is generally a good indicator of high quality concrete, it does not mean the concrete is waterproof for applications where moisture travelling in or out of the concrete is problematic. If the concrete needs to be moisture-proof, it needs to be waterproofed.
Despite its apparent density, concrete remains a porous and permeable material that can leak and can deteriorate rapidly when in contact with water or the intrusion of dissolved chemicals, such as acids, chlorides, sulfates, or other harmful substances. But there are other ways in which water can transmit through concrete.
Water vapour plays a role
Water also migrates in the form of water vapour as relative humidity (RH). RH is water held in air as a dissolved gas. As water vapour heats up, it contains more water and exerts vapour pressure. A lot of water can be transported through concrete as vapour. The direction of flow travels from high vapour pressure, generally the source, to low vapour pressure by a process of diffusion. The direction of flow can vary depending on environmental conditions.
The direction of vapour flow is critical when applying waterproofing treatment in situations where an unbalanced vapour pressure gradient exists. Some typical examples of this are:
applying a low vapor permeable membrane such as a traffic deck coating over a damp concrete surface (even if the very top surface is dry) on a warm day results in vapour pressure build-up and can lead to pin-holing or blistering;
applying a coating or sealant to the outside of a building wall may trap moisture into the wall if the sealant is not sufficiently vapour permeable; and
applying low vapour permeable flooring over a slab-on-grade where there is high subsurface moisture content may result in delamination of the flooring.
As a rule of thumb, a low vapour permeable sealant or coating should not be placed on the downstream face. This could damage or blister the membrane. Some types of coatings and water permeability reducing admixtures accommodate considerable vapour movement, thus allowing them to be placed successfully on the downstream side.
How crystalline waterproofing works
Crystalline waterproofing improves the waterproofing and durability of concrete by filling and plugging the pores, capillaries, micro-cracks, and other voids with a non-soluble, highly resistant crystalline formation. The waterproofing effect is based on two simple reactions—one chemical and one physical.
Let us start with the basic fact that concrete is chemical in nature. When a cement particle hydrates there is a reaction between water and the cement, which causes it to become a hard, solid mass but there are also chemical byproducts given off that are lying dormant in the concrete.
With crystalline waterproofing, there is a second set of chemicals and when these two groups are brought together (i.e. the byproducts of cement hydration and the crystalline chemicals) in the presence of moisture a chemical reaction takes place and the end product of this reaction is a non‑soluble crystalline structure.
This crystalline structure can only occur where moisture is present and thus will form in the pores, capillary tracts, and shrinkage cracks in concrete. Wherever water goes, crystalline waterproofing will form.
Crystalline waterproofing is unique in that it can be incorporated and integrated into the concrete matrix in multiple ways and achieve similar results. For instance, crystalline waterproofing can be added as an admixture at the time of concrete batching, and thereby be fully integrated throughout the concrete mixture.
It can also be applied to the concrete surface either as a coating for cured concrete or as a dry-shake application to a fresh concrete. In these two application options, a process called chemical diffusion takes place. The theory behind diffusion is that chemicals in a solution of high chemical density will migrate through a solution of lower density until the two equalize.
Deep protection possible
Diffusion occurs when concrete is saturated with water prior to the application of crystalline waterproofing. In this way, the water creates a solution of low chemical density within the concrete. When a slurry mixture of crystalline waterproofing is applied to the concrete, it represents a solution of high chemical density on the surface that triggers the process of chemical diffusion. The crystalline waterproofing chemicals are now chemically compelled to migrate through the water (i.e. the solution of low density) until the two solutions equalize.
The crystalline waterproofing chemicals now spread through the concrete and become available to the byproducts of cement hydration allowing the chemical reaction to take place. A crystalline structure is formed and as the chemicals continue to migrate through the water this crystalline growth will form behind this advancing front of chemicals.
This reaction continues until the crystalline chemicals are either depleted or run out of water. Chemical diffusion can take these chemicals about 300 mm (12 in.) into the concrete. If water has only soaked 50 mm (2 in.) into the surface then the crystalline chemicals will only travel 50 mm and stop but, it still has the potential to travel 250 mm (10 in.) further if water re-enters the concrete at some point in the future and reactivates the chemicals.
Unique benefits with crystalline protection
Instead of just reducing the porosity of concrete, like water reducers, plasticizers, and super plasticizers, the crystalline formation engages the material filling and plugging the voids in concrete to become an integral and permanent part of the structure (Figure 2).
Crystalline waterproofing works the same way whether it is mixed in new concrete as an admixture or applied to the concrete surface as a slurry coating for repairs or as a waterproofing treatment. Crystalline waterproofing becomes a permanent part of the concrete and will continue to work for the life of the structure, preventing the ingress of water from any direction and sealing static hairline cracks and pores up to 0.04 mm (1.5 mils). When applied as a coating to a concrete surface and moisture cured for two to three days, the active chemicals in crystalline waterproofing diffuse into the concrete surface.
Since this crystalline formation is occurring throughout the concrete matrix and not just at the surface, the waterproofing protection cannot be punctured or otherwise damaged like membranes or surface coatings. Crystalline technology also improves the durability of concrete structures, lowering their maintenance cost and extending their lifespan by protecting them against the effect of aggressive chemicals.
Crystalline waterproofing is highly resistant to chemicals where the pH range is between three and 11 under constant contact and two to 12 under periodic contact. Crystalline waterproofing will tolerate temperatures between –32 C (–25 F) and 130 C (265 F) in a constant state. Humidity, ultraviolet (UV) light, and oxygen levels also have no impact on the products ability to perform.
Crystalline waterproofing offers protection in the following ways:
by blocking the ingress of liquids, crystalline waterproofing protects concrete against accelerated deterioration caused by dissolved acids such as those produced by microbial-induced corrosion (MIC) in sewer collection and treatment structures;
by preventing the diffusion of chlorides which protect the reinforcing steel and prevent the deterioration that could occur (i.e. oxidation and expansion of the steel reinforcement);
by inhibiting the effects of carbon monoxide (CO), carbon dioxide (CO2), sulfur dioxide (SO2), and nitrogen dioxide (NO2), the gasses responsible for the corrosive phenomenon known as 'carbonation' (carbonation testing shows crystalline waterproofing also reduces the flow of gases into concrete, thus retarding carbonation at the surface and thereby helping to prevent the drop in alkalinity that can soften the surface layer); and
by protecting concrete against alkali aggregate reactions (AAR) by denying water to those processes affecting reactive aggregates.
Traditional methods of protecting concrete such as membranes and other coatings may still leave it susceptible to water and chemical damage. Only with the addition of crystalline technology can the pores and micro-cracks, which normally result from the process of setting and curing concrete, be sealed.
How to use crystalline waterproofing
Crystalline waterproofing and protection technology is sold in powder form and is typically used in four main ways:
as an admixture that is added directly to the concrete mix during batching and used in precasting concrete products or for cast-in-place structures;
as a cementitious coating that is applied to a cured concrete surface that is saturated, surface damp (SSD) such as foundation walls, slab floors, or water containing structures;
as a repair mortar for patching or resurfacing deteriorated concrete such as often found in water and wastewater treatment facilities, dams, sea walls, and drainage structures; and
as a dry-shake powder applied to green concrete and trowelled into the surface.
Crystalline waterproofing admixture
The addition of crystalline waterproofing to concrete at the time of batching provides the maximum benefits while eliminating the need for and cost of trained applicators and reducing any delays or application time, and providing structural benefits such as increased compressive strength. By adding crystalline waterproofing to the concrete mix at the batch plant, in the ready-mix truck, or in an onsite mixer also ensures the crystalline formation occurs uniformly throughout the structure rather than penetrating from the surface as would be the case with a surface application.
The admixture also reduces bleed water loss resulting in less plastic shrinkage and increased compressive strengths. For most mixtures the dosage rate is two to three per cent based on the Portland cement content.
Coating and repair applications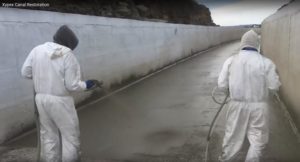 Crystalline waterproofing coating materials are mixed with water at a ratio of five parts powder to two parts water by volume for brush application and five parts powder to three parts water by volume for spray application (Figure 3). The coverage rate is 1/2 to 2/3 kg (1.25 to 1.5 lb) per square yard per coat. At this rate a 27-kg (60-lb) pail of material will cover 33 to 40 m2 (360 to 430 sf) and a 23-kg (50-lb) bag will cover 28 to 33 m2 (300 to 360 sf) of surface area.
Crystalline waterproofing coatings can be applied by brush, hopper gun, or specialized spray equipment. When using a standard 152-mm (6-in.) masonry brush, one person can mix and apply approximately 7 to 9 m2 (80 to 100 sf) per hour per coat. A hopper gun or texture gun uses a two-person crew with one person mixing material and the second spraying. The gun uses a 9.5-mm (3/8-in.) nozzle and operates at roughly 172 kPa (25 psi). A two-person crew can apply the Xypex coating at a rate of 37 to 46 m2 (400 to 500 sf) per hour per coat.
Specialized spray equipment such as Quick Spray, Hy-Flex, or equivalent is operated with a three-person crew. At application rates of 111 to 139 m2 (1200 to 1500 sf) per hour per coat it is necessary to have all materials pre-measured in order to keep up with the spray equipment's capacity. When using this type of equipment the best procedure is to pre-measure the powder into at least five or six large buckets (19-L [5-gal] pails) and pre-measure the water. This is done on the basis of five parts powder to three parts water by volume.
On vertical surfaces the standard application procedure is to start at the top of the wall and work down. When using spray equipment the first coat of material can be back-brushed using a 508-mm (20-in.) wide janitors broom with a soft bristle or a finisher's broom. This helps ensure an even coverage rate and minimizes any run down of the coating.
When a second coat is specified it needs to be applied no later than 48 hours after the first one. Under normal conditions the crystalline waterproofing coating will begin to set up in two to three hours and application of the second coat can be done at this time. If the first coat has dried out it should be lightly moistened with water prior to the second coat being applied. Failure to do so may result in lack of bond between the two coats.
When applying the coating materials to a concrete structure it is better to break up the job into manageable segments rather than try to complete large areas at one time. This becomes even more critical when the weather is hot or windy.
Dry-shake application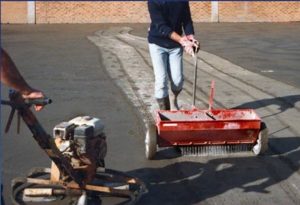 Crystalline waterproofing can also be applied by the dry-shake application method like floor hardeners to new slabs while under construction (Figure 4). This process requires the crystalline powder compound to be sprinkled onto the surface of slabs with the use of a mechanical spreader after concrete is placed, consolidated and levelled.
The powder is then worked into the surface of the slab during the normal finishing process with a power trowel. Crystalline waterproofing is also available combined with synthetic floor hardeners to both waterproof and harden floor slabs. Typical applications for the dry-shake application are basement slabs and warehouse floors.
Four case studies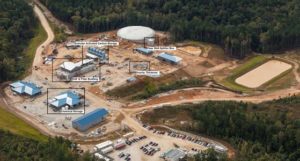 Let us take a brief look at how Xypex crystalline technology was used in different actual applications to waterproof and provide self-healing qualities for critical concrete structures.
Admixture – Richland Creek WTP, Georgia, U.S.A.
Xypex Admix C-500 is playing an integral role in protecting the new water treatment plant (WTP) at the heart of Paulding County, Georgia's Richland Creek Reservoir Water Supply Program (Figure 5). The $215-million project will provide the county—part of the Atlanta metro area—with its first independent water supply. Xypex Admix was included in 4587 m3 (6000 yd3) of ready-mix concrete in order to provide watertight and chemically resistant WTP structures. Added easily at the time of batching in 7-kg (15-lb) water soluble bags, the Xypex admix proved itself immediately by effectively sealing multiple shrinkage cracks that developed in several WTP structures, eliminating the need for costly and time-consuming epoxy crack injection.
Applied product – Rod el Farag Axis Bridge, Cairo, Egypt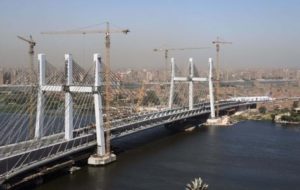 The Rod el Farag Axis Bridge is the final element completing a critical new 600-km (373-mi) travel corridor that links the Red Sea to the Mediterranean (Figure 6). A key project goal is to reduce traffic congestion in central Cairo by linking eastern Cairo to the country's northern regions without passing through the centre of the capital city. The new bridge was built in just four years by a consortium of Egyptian firms under the supervision of the Armed Forces Engineering Authority. The 540-m (1772-ft) bridge features six traffic lanes in each direction and, at 67-m (221-ft) wide, it has been deemed the widest cable-stayed bridge in the world by Guinness World Records.
More than 1 million m3 (35-million cf) of concrete was used to build the bridge, including six 92-m (302-ft) tall concrete towers that support 160 steel support cables. One of the key challenges for the bridge designers was how to adequately protect the critical concrete structures from the effects of air pollution and the moist riverine environment. Consulting engineers recommended that the critical concrete towers be protected with Xypex Concentrate crystalline waterproofing in order to provide integral, lifetime protection from natural and manmade elements. Xypex Concentrate was applied by brush as a cementitous slurry to 1000 m2 (10,764 sf) of pre-saturated concrete surface on the six bridge towers.
Repair Mortar – North Vancouver, B.C.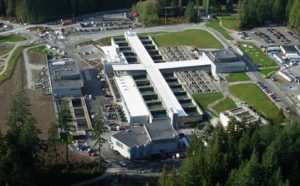 In Vancouver, crystalline waterproofing was extensively used for waterproofing and protection of concrete tanks at the Seymour-Capilano Filtration Plant, the largest of its kind in Canada (Figure 7). The plant includes the world's largest UV disinfection system and filters up to 1.8-billion L (4.7-million gal) of water per day and supplies up to 70 per cent of the drinking water to Metro Vancouver. The slab of this WTP is treated with Xypex Megamix II, a crystalline enhanced thick repair mortar, to protect the slab area where rebar was exposed to corrosion. Over 67,359 kg (148,500 lb) of Megamix II has been applied. Xypex Concentrate was also used to fill tie holes, and to waterproof and protect the external walls of the tanks during the construction of this $500-million project.
Dry-shake – WTP, Calgary, Alta.
The Bearspaw WTP is one of two WTPs—along with Glenmore WTP—that supply the needs of the City of Calgary, Alta.. Built in 1972, the Bearspaw plant was upgraded in 1984. In the ensuing years, it was determined major upgrades were needed to both of Calgary's WTPs to meet anticipated population growth and increasingly stringent federal and provincial Canadian regulatory standards.
A total of $300 million was budgeted for the two plants, with $170 million going toward the Bearspaw upgrades, which included six key elements:
residuals treatment facility;
filter-to-waste-recycling system;
potassium permanganate dosing;
pre-treatment facility;
filter upgrades; and
UV disinfection (Figure 8).
The upgradation has increased the plant's treatment capacity to 550 million litres a day (mld).
To waterproof and protect key water holding structures, engineers specified a range of Xypex products including:
227 to 23 kg (500 to 50 lb) bags of Xypex Concentrate;
227 to 23 kg bags of Xypex Modified;
68 to 27 kg (150 to 60 lb) pails of Xypex Concentrate Dryshake DS-1; and
23 to 27 kg pails of Xypex Patch'n Plug.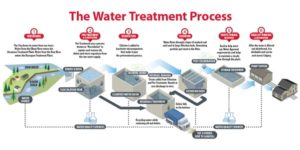 Xypex Dryshake is a special formulation—consisting of Portland cement, active proprietary chemicals, and a crushed aggregate graded to particle size—designed specifically for application on horizontal surfaces. The product becomes an integral part of the concrete surface, thereby eliminating problems such as scaling, dusting, flaking, and delamination. Xypex Dryshake is applied when the concrete is still fresh by hand or mechanical spreader and then floated into the surface by hand or power float.
Conclusion
Although concrete may appear to be a simple product to produce, it, in fact, requires a highly engineered approach. In today's design and construction environment, where more stringent requirements such as longer life cycles, more durable concrete, value engineering concepts are expected, careful consideration must be paid to not only the basic requirements such as the water cement ratio and cementitious materials, but also to more sophisticated chemical admixtures.
Crystalline waterproofing technology with its ability to reduce the porosity and permeability and provide crack-healing for conventional concrete is a valuable addition to our armament of protection and enhancement for this most fundamental and basic building material.
Endnotes:
[Image]: https://www.constructioncanada.net/wp-content/uploads/2019/10/Fig-1.jpg
[Image]: https://www.constructioncanada.net/wp-content/uploads/2019/10/Fig-2a.jpg
[Image]: https://www.constructioncanada.net/wp-content/uploads/2019/10/Fig-2b.jpg
[Image]: https://www.constructioncanada.net/wp-content/uploads/2019/10/Fig-3.jpg
[Image]: https://www.constructioncanada.net/wp-content/uploads/2019/10/Fig-4.jpg
[Image]: https://www.constructioncanada.net/wp-content/uploads/2019/10/Fig-5.jpg
[Image]: https://www.constructioncanada.net/wp-content/uploads/2019/10/Fig-6.jpg
[Image]: https://www.constructioncanada.net/wp-content/uploads/2019/10/Fig-7.jpg
[Image]: https://www.constructioncanada.net/wp-content/uploads/2019/10/Fig-8.jpg
Source URL: https://www.constructioncanada.net/crystalline-technology-a-cure-for-the-natural-deficiencies-in-concrete/
---