Repair Mortar – North Vancouver, B.C.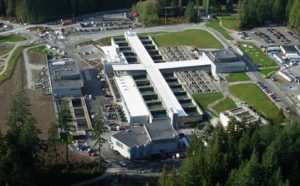 In Vancouver, crystalline waterproofing was extensively used for waterproofing and protection of concrete tanks at the Seymour-Capilano Filtration Plant, the largest of its kind in Canada (Figure 7). The plant includes the world's largest UV disinfection system and filters up to 1.8-billion L (4.7-million gal) of water per day and supplies up to 70 per cent of the drinking water to Metro Vancouver. The slab of this WTP is treated with Xypex Megamix II, a crystalline enhanced thick repair mortar, to protect the slab area where rebar was exposed to corrosion. Over 67,359 kg (148,500 lb) of Megamix II has been applied. Xypex Concentrate was also used to fill tie holes, and to waterproof and protect the external walls of the tanks during the construction of this $500-million project.
Dry-shake – WTP, Calgary, Alta.
The Bearspaw WTP is one of two WTPs—along with Glenmore WTP—that supply the needs of the City of Calgary, Alta.. Built in 1972, the Bearspaw plant was upgraded in 1984. In the ensuing years, it was determined major upgrades were needed to both of Calgary's WTPs to meet anticipated population growth and increasingly stringent federal and provincial Canadian regulatory standards.
A total of $300 million was budgeted for the two plants, with $170 million going toward the Bearspaw upgrades, which included six key elements:
residuals treatment facility;
filter-to-waste-recycling system;
potassium permanganate dosing;
pre-treatment facility;
filter upgrades; and
UV disinfection (Figure 8).
The upgradation has increased the plant's treatment capacity to 550 million litres a day (mld).
To waterproof and protect key water holding structures, engineers specified a range of Xypex products including:
227 to 23 kg (500 to 50 lb) bags of Xypex Concentrate;
227 to 23 kg bags of Xypex Modified;
68 to 27 kg (150 to 60 lb) pails of Xypex Concentrate Dryshake DS-1; and
23 to 27 kg pails of Xypex Patch'n Plug.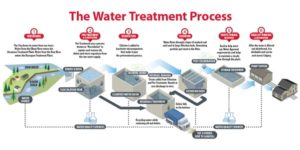 Xypex Dryshake is a special formulation—consisting of Portland cement, active proprietary chemicals, and a crushed aggregate graded to particle size—designed specifically for application on horizontal surfaces. The product becomes an integral part of the concrete surface, thereby eliminating problems such as scaling, dusting, flaking, and delamination. Xypex Dryshake is applied when the concrete is still fresh by hand or mechanical spreader and then floated into the surface by hand or power float.
Conclusion
Although concrete may appear to be a simple product to produce, it, in fact, requires a highly engineered approach. In today's design and construction environment, where more stringent requirements such as longer life cycles, more durable concrete, value engineering concepts are expected, careful consideration must be paid to not only the basic requirements such as the water cement ratio and cementitious materials, but also to more sophisticated chemical admixtures.
Crystalline waterproofing technology with its ability to reduce the porosity and permeability and provide crack-healing for conventional concrete is a valuable addition to our armament of protection and enhancement for this most fundamental and basic building material.
All information listed in this section was submitted by Xypex Chemical Corp.
Kenilworth Media Inc. and Construction Specifications Canada (CSC) cannot assume responsibility for errors of relevance,
fact or omission. The publisher nor CSC does not endorse any products featured in this article.

Control the content you see on ConstructionCanada.net!
Learn More.