Dry-shake application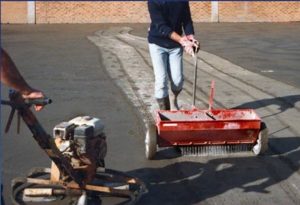 Crystalline waterproofing can also be applied by the dry-shake application method like floor hardeners to new slabs while under construction (Figure 4). This process requires the crystalline powder compound to be sprinkled onto the surface of slabs with the use of a mechanical spreader after concrete is placed, consolidated and levelled.
The powder is then worked into the surface of the slab during the normal finishing process with a power trowel. Crystalline waterproofing is also available combined with synthetic floor hardeners to both waterproof and harden floor slabs. Typical applications for the dry-shake application are basement slabs and warehouse floors.
Four case studies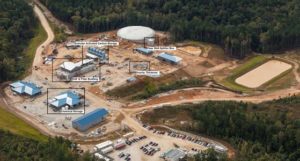 Let us take a brief look at how Xypex crystalline technology was used in different actual applications to waterproof and provide self-healing qualities for critical concrete structures.
Admixture – Richland Creek WTP, Georgia, U.S.A.
Xypex Admix C-500 is playing an integral role in protecting the new water treatment plant (WTP) at the heart of Paulding County, Georgia's Richland Creek Reservoir Water Supply Program (Figure 5). The $215-million project will provide the county—part of the Atlanta metro area—with its first independent water supply. Xypex Admix was included in 4587 m3 (6000 yd3) of ready-mix concrete in order to provide watertight and chemically resistant WTP structures. Added easily at the time of batching in 7-kg (15-lb) water soluble bags, the Xypex admix proved itself immediately by effectively sealing multiple shrinkage cracks that developed in several WTP structures, eliminating the need for costly and time-consuming epoxy crack injection.
Applied product – Rod el Farag Axis Bridge, Cairo, Egypt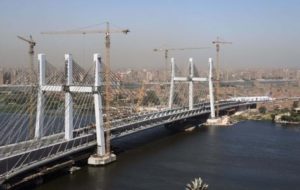 The Rod el Farag Axis Bridge is the final element completing a critical new 600-km (373-mi) travel corridor that links the Red Sea to the Mediterranean (Figure 6). A key project goal is to reduce traffic congestion in central Cairo by linking eastern Cairo to the country's northern regions without passing through the centre of the capital city. The new bridge was built in just four years by a consortium of Egyptian firms under the supervision of the Armed Forces Engineering Authority. The 540-m (1772-ft) bridge features six traffic lanes in each direction and, at 67-m (221-ft) wide, it has been deemed the widest cable-stayed bridge in the world by Guinness World Records.
More than 1 million m3 (35-million cf) of concrete was used to build the bridge, including six 92-m (302-ft) tall concrete towers that support 160 steel support cables. One of the key challenges for the bridge designers was how to adequately protect the critical concrete structures from the effects of air pollution and the moist riverine environment. Consulting engineers recommended that the critical concrete towers be protected with Xypex Concentrate crystalline waterproofing in order to provide integral, lifetime protection from natural and manmade elements. Xypex Concentrate was applied by brush as a cementitous slurry to 1000 m2 (10,764 sf) of pre-saturated concrete surface on the six bridge towers.
All information listed in this section was submitted by Xypex Chemical Corp.
Kenilworth Media Inc. and Construction Specifications Canada (CSC) cannot assume responsibility for errors of relevance,
fact or omission. The publisher nor CSC does not endorse any products featured in this article.

Control the content you see on ConstructionCanada.net!
Learn More.