Crystalline technology: A cure for the natural deficiencies in concrete
Since its construction in the 1930s, the Milner-Gooding Canal has provided vital water to the farmers in and around Shoshone, Idaho, U.S.A. Recently a concrete flume on the canal which was showing extensive deterioration due to freeze-thaw attack has been restored with Xypex crystalline waterproofing materials.
Concrete, perhaps the most widely used material in modern building construction, is by its very nature and structure susceptible to damage from water and chemical penetration. Concrete is the primary material employed to construct everything from the foundation walls, floor slabs, and precast exterior cladding of high-rise buildings to the water and wastewater treatment structures, tunnels, manholes, and other infrastructure so vital to modern cities. All are subject to deterioration caused by the penetration of water and water-borne chemicals. Examples range from things as simple as a damp basement to the more complex such as deterioration caused by chlorides or other aggressive chemicals.
Concrete is a mixture of rock, sand, cement, and water. The rock and sand form the aggregate base for the concrete. The mixture of cement and water provides a paste that binds the aggregates together. As the cement particles hydrate and form calcium silicate hydrates, the whole mixture hardens into a solid rock-like mass.
To make this mixture workable, easy-to-place, and consolidate, more water than necessary for the cement's hydration is used. This extra water, known as the water of convenience, will bleed out of the concrete, leaving behind pores and capillary tracts. This means that although concrete appears to be a solid material, it is, in fact, both porous and permeable.
Despite the use of additives to reduce the amount of water in the concrete mix while still maintaining its workability, pores, voids, and capillary paths are formed in the concrete. These pathways can carry water and aggressive chemicals into the structural elements and eventually corrode the steel reinforcement and deteriorate the concrete, thus jeopardizing the structure's integrity.
This article concentrates on how crystalline technology can be used to both fill these voids and make concrete waterproof and more durable. Crystalline technology has been called a cure for the natural deficiencies inherent in concrete.
Why concrete is porous and permeable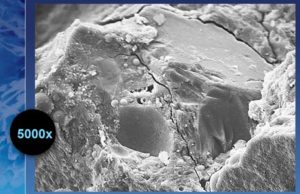 Let us learn a little more about the structure of concrete and how it allows water and water vapour to pass through it so freely. The first thing to know is that concrete is porous. Porosity is defined as the amount of voids left in concrete expressed as a percentage of the total volume of a material. Permeability, on the other hand, is an expression of how well the voids are connected. The interconnectedness of the voids creates pathways that allow the movement of water into and through the concrete (Figure 1).
Permeability is a broader term than porosity, the ability of liquid water under pressure to flow through porous material. Permeability is described by a quantity known as the permeability coefficient (i.e. D'Arcy's Coefficient). While low water permeability is generally a good indicator of high quality concrete, it does not mean the concrete is waterproof for applications where moisture travelling in or out of the concrete is problematic. If the concrete needs to be moisture-proof, it needs to be waterproofed.
Despite its apparent density, concrete remains a porous and permeable material that can leak and can deteriorate rapidly when in contact with water or the intrusion of dissolved chemicals, such as acids, chlorides, sulfates, or other harmful substances. But there are other ways in which water can transmit through concrete.
All information listed in this section was submitted by Xypex Chemical Corp.
Kenilworth Media Inc. and Construction Specifications Canada (CSC) cannot assume responsibility for errors of relevance,
fact or omission. The publisher nor CSC does not endorse any products featured in this article.

Control the content you see on ConstructionCanada.net!
Learn More.