Code-complaint egress solutions for subways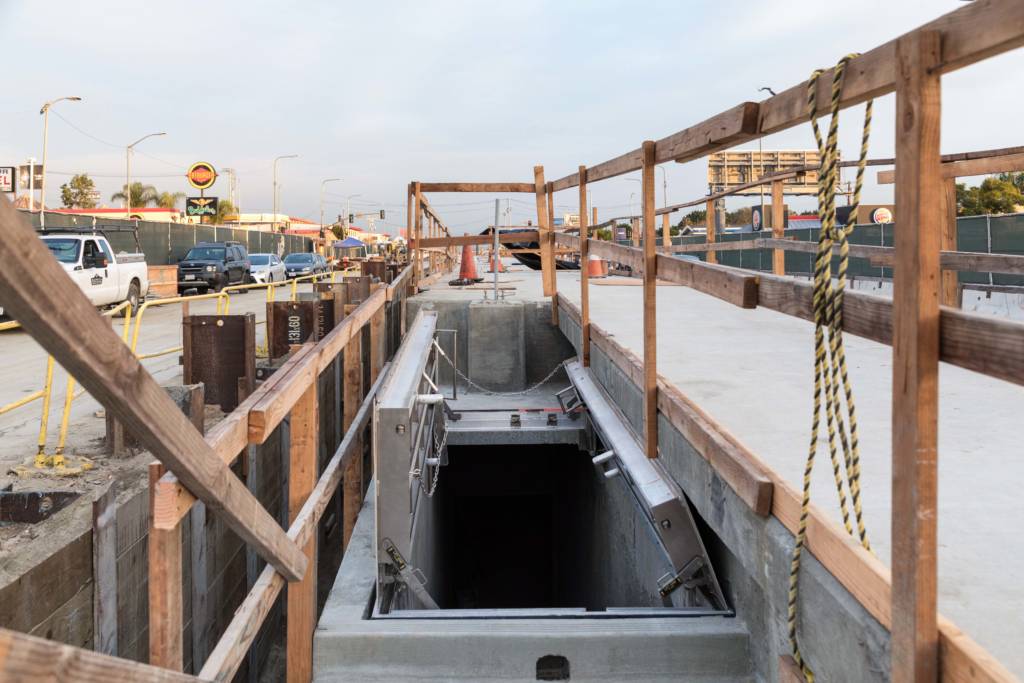 Providing emergency egress for rail riders and even building crews is one of the top concerns for design and construction teams building a new rail line in Los Angeles. The Crenshaw/LAX line includes three underground stations and three at-grade stations. Two stations are above grade. It will also include emergency doors to allow access to underground control stations.
Plans for the 14-km (8.5-mi), $2.058-billion rail line started shortly after the Los Angeles riots in 1992, and the extension is designed to better serve transit-dependent residents in the corridor as well as provide economic stimulus in the region.
The Los Angeles County Metro Rail System and Walsh/Shea Corridor Constructors (which is building the line) employed specialty access doors manufactured by The BILCO Company of New Haven, Connecticut, to comply with the fire code's egress laws. The project was specified with six emergency exit hatches and four large doors to access the underground control systems. The hatches and doors are installed all along the lengthy project, which is expected to be completed in October 2019.
The doors are equipped with custom features making them ideal for use in this application. Each of these heavy doors is supplied with an engineered lift assistance system and a two-point panic-locking mechanism allowing the doors to open with less than 14 kg (30 lb) of force, a critical requirement for safe egress in an emergency.
Additional features also need to be added at the sidewalks on the ground level where the doors will be installed to ensure reliability and added safety. To prevent structural damage, the doors are reinforced for vehicular loading to withstand the weight of an occasional car or truck that may drive onto the sidewalk. They also feature a slip-resistant coating on the walking surface to ensure safety in these high pedestrian traffic areas.
Two emergency doors are at underground stations at Expo/Crenshaw, Martin Luther King, and Leimert Park. The stations at Hyde Park, Fairview Heights, Downtown Inglewood, and Westchester/Veterans are at-grade and the Aviation/Century stop is elevated, so emergency evacuation doors are not required.
Underground rail lines make it especially challenging to design a proper egress solution. "Most egress codes are based on walking out of an apartment or a building where a door is 0.91-m (3-ft) wide," said Harold Levitt, a former New York Port Authority of New York and New Jersey employee and a former manager of capital programs for PATH (Port Authority Trans-Hudson Corporation). PATH is a subsidiary of the Port Authority of New York and New Jersey. Levitt is also a former chairperson of the committee that created the language for the National Fire Protection Association (NFPA) that addressed railroad egress.
"You could have 1000 people on a train or in a tunnel. If you do not have properly planned egress, you will have a choke point that could result in an unwanted condition," he added.
NFPA codes address underground egress
Fire codes characterize platforms and stations as assembly occupancies, with provisions requiring egress systems facilitating rapid and efficient evacuation. Codes also specify fire protection and life safety requirements for underground, surface, and elevated fixed guideway transit, and passenger rail systems. Codes also include guidelines on fire protection requirements and emergency ventilation systems.
"There have been older stations that were not always compliant with the current code,'' Levitt said. "That has changed over time. Any modification to a station when transit properties agree to do so are upgraded to meet the current code. A number of stations have engineered solutions, such as safe fire zones, meaning areas of refuge to evacuate people from stations in an orderly fashion by keeping them behind fire doors/walls. Many stations have thus become substantially safer."
Code-compliant egress in subway lines has never been more essential. The New York City subway system averages nearly 5.7 million rides each weekday, according to the city's Metropolitan Transit Authority (MTA). Nearly 750,000 residents travel by subway each day in Washington, D.C., while Chicago's "L", the second busiest mass transit system in the United States, carried 238 million passengers in 2016.
Increasing danger in subway, rail travel
Subway and rail travel has also become increasingly dangerous. In 2015, the MTA reported a staggering 525 track fires throughout its subway system. More than half of the fires—329—involved debris, grease, and garbage. "These fires,'' MTA chairman Joe Lhota said, "all start with trash being thrown down there." In 2015, a woman died and 91 people were injured when a D.C. Metrorail system stopped because of smoke in a tunnel caused by a short in an arcing insulator. The entire system was closed for a day to allow for inspections.
On one particularly eventful day in July, 2017, in New York, a subway track fire sent nine people to an area hospital. The fire stopped four other lines in New York's intricate system, which covers an astonishing 394 km (245 mi) across 36 lines and four boroughs.
Perhaps, the seminal moment for evaluating subway emergency evacuation procedures occurred in London on July 7, 2005, when a series of co-ordinated terrorist attacks targeted civilians during the morning rush hour. The bombs killed 52 people and more than 700 were injured in the tragedy. Since the incident in London, there have been more than 15 attacks worldwide, including a blast in 2016 in Belgium that killed 20 people. Potential attacks in New York (2009) and Washington (2010) were foiled.
Egress solutions benefit workers
Egress systems also support workers who are constructing the line. Construction is the most dangerous job in the United States, according to statistics compiled by the Occupational Safety and Health Administration (OSHA). The federal agency reported 4836 workers were killed on the job in 2015, an average of more than 93 per week or 13 deaths every day.
Underground construction is especially dangerous. In 1997, a worker was killed in the construction of a different Los Angeles project when he was pinned against a subway tunnel. In a 1994 fatality in Los Angeles, a man suffered burns over 90 per cent of his body when an acetylene tank exploded while working in a subway tunnel. Work on the Crenshaw Line was even suspended for four days in 2015 after transportation officials saw a series of safety violations.
Easing congestion
The new transit line in Los Angeles is expected to bring commercial and retail development and help ease congestion on the region's jammed roads. The project did not seek state or federal money, and is being funded with sales tax revenues and local sources. "Measure R," the half-cent sales tax approved by Los Angeles County voters and providing the bulk of the funding, was passed in 2008. The cost is projected at more than $2 billion, with about 82 per cent of the funds coming from sales tax revenues.
The project will be the first rail line to serve Crenshaw Boulevard and the city of Inglewood since streetcars of the Los Angeles Rail Line stopped running in 1955. Los Angeles is amid a major infrastructure update in advance of the 2028 Summer Olympics. The new projects are designed to increase the use of public transportation and ease congestion on the city's roadways. Besides the new Crenshaw line, Los Angeles is also building a 14-km (9-mi) extension to a Westside subway line and an automated people mover that will serve people on the Crenshaw line and help them connect to the broader Metro rail network.
Links
https://en.wikipedia.org/wiki/Crenshaw/LAX_Line
https://www.nfpa.org/News-and-Research/Publications/NFPA-Journal/2016/July-August-2016/Features/Tunnel-Trouble
https://www.osha.gov/oshstats/commonstats.html
http://www.walsh-shea-corridorconstructors.com/
https://www.nbcnewyork.com/investigations/Subway-Exits-MTA-Closed-Locked-Train-Stairs-Blocked-364549731.html
https://www.nbcnewyork.com/news/local/Dirty-Subway-Track-Fire-Clean-Smoke-Condition-New-York-MTA-Garbage-Cleaning-Audit-312979941.html
All information listed in this section was submitted by Bilco Company.
Kenilworth Media Inc. and Construction Specifications Canada (CSC) cannot assume responsibility for errors of relevance,
fact or omission. The publisher nor CSC does not endorse any products featured in this article.

Control the content you see on ConstructionCanada.net!
Learn More.