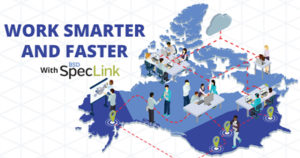 SpecLink Cloud will revolutionize the way design professionals work by enhancing collaboration via the cloud, and seamlessly linking building information modelling (BIM) with specs, including National Master Specifications (NMS), which are now integrated into SpecLink.
Construction Specifications Canada (CSC) chose Building Systems Design (BSD) as its exclusive partner to make NMS available within SpecLink's database-driven platform, a significant advancement from working in word processing files. "CSC and BSD hold a shared vision that those creating specifications should have access to the best data and software," said Chris Anderson, CEO of BSD.
Intuitive tools like intelligent links and editing by inclusion help SpecLink users minimize errors and work up to 70 per cent faster. The software makes it simple to customize office masters, and stay current with automatic updates.
SpecLink Cloud will dramatically improve collaboration throughout the design and review process. Teams can easily align their intentions within a common data environment, and view, share, and comment on projects from any web-enabled device.
Specifications and Revit models are linked within SpecLink, allowing design professionals to monitor changes as the design evolves. BIM integration simplifies co-ordination for improved accuracy and efficiency. Users can view immersive, 3D virtual walkthroughs from anywhere without a Revit license.
Learn more about SpecLink Cloud at BSDSpecLink.com.
All information listed in this section was submitted by Building Systems Design.
Kenilworth Media Inc. and Construction Specifications Canada (CSC) cannot assume responsibility for errors of relevance,
fact or omission. The publisher nor CSC does not endorse any products featured in this article.