Belden Brick provides smooth style to St. Mark's Coptic Orthodox Church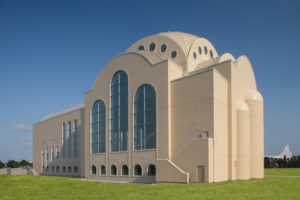 St. Mark's Coptic Orthodox Church in Markham, Ont., is a wonderful example of what can be done with modular brick masonry. The Belden Brick Company's Smooth Cream Bricks #481-483 were used in modular size to create a monolithic wall. This is best achieved by using a brick that is very consistent in colour such as those provided by Belden. Designed by NORR Architects of Toronto and built by Atlas Corporation, the church—located at 455 Ferrier St, Markham, ON L3R 5Z2, between Warden and Victoria Park—is meant to be reminiscent in design to the large Coptic cathedral in Egypt, which is the center of the faith, and named after St. Mark the Evangelist, an apostle of Jesus and founder of the Coptic Church.
The Belden Brick colour and process
Similar to white bricks, cream bricks give a light, fresh appearance. Cream bricks work equally well in both commercial and residential settings. In general, lighter-coloured brick offers a different look from more traditional coloured brick, making homes both unique and eye-catching. Cream, a beautiful, neutral colour, goes well with almost any colour scheme. Belden Brick offers five varieties of quality cream bricks, each with a different look and feel. Take a closer look at each one as well as past projects by visiting Belden Brick's website at www.beldenbrick.com.
Belden Brick has a wide range of brick-making equipment and facilities. Relying both on skilled craftspersons and state-of-the-art computerized systems, Belden Brick is able to meet the needs of many different markets. Making over 500 styles of bricks, Belden Brick's production process creates the kind of beauty people will admire for generations.
 St. Mark's Coptic Orthodox Church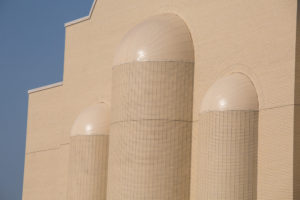 The Coptic Church was founded by the apostle St. Mark over 2000 years ago in Egypt. Many Coptic Christians started arriving in Canada in the 1960s, the largest concentration in the country with about 20,000 living in the Greater Toronto Area and neighbouring towns. Toronto's Coptic Orthodox Christians, a close-knit community made up of some successful business and professional people, are mostly descendants of Egypt's 6000-year-old pharaonic culture.
An international competition was held for the architectural design of the project. There were 64 submissions from 20 countries. NORR Architects of Toronto was selected as the winning designer. They chose to incorporate Belden Brick's smooth cream bricks on the exterior to mimic the colour of the Middle East's desert sand.
The project includes a cathedral, a community centre, school, office building, retirement residence, nursing home, and museum—all built on 5 ha (12 acres) on the Steeles Avenue boundary between Markham and the Toronto suburb of Scarborough. The church's location is significant because St. Mark's Coptic Orthodox Church is just a couple of blocks away and was the first Coptic Church established in North America in 1964.
It is shaped in an architectural language designed to speak to past millennia in the Middle East and to the 21st century in Canada. All Coptic churches face east like this one because the Bible says the second coming of Christ will be from the east. Everything in the architecture and design of a Coptic church has a symbolic and spiritual meaning such as a dome—an expression of heaven on Earth.
All information listed in this section was submitted by Belden Brick Co.
Kenilworth Media Inc. and Construction Specifications Canada (CSC) cannot assume responsibility for errors of relevance,
fact or omission. The publisher nor CSC does not endorse any products featured in this article.

Control the content you see on ConstructionCanada.net!
Learn More.