Atriums: Ideal for dual-purpose natural ventilation systems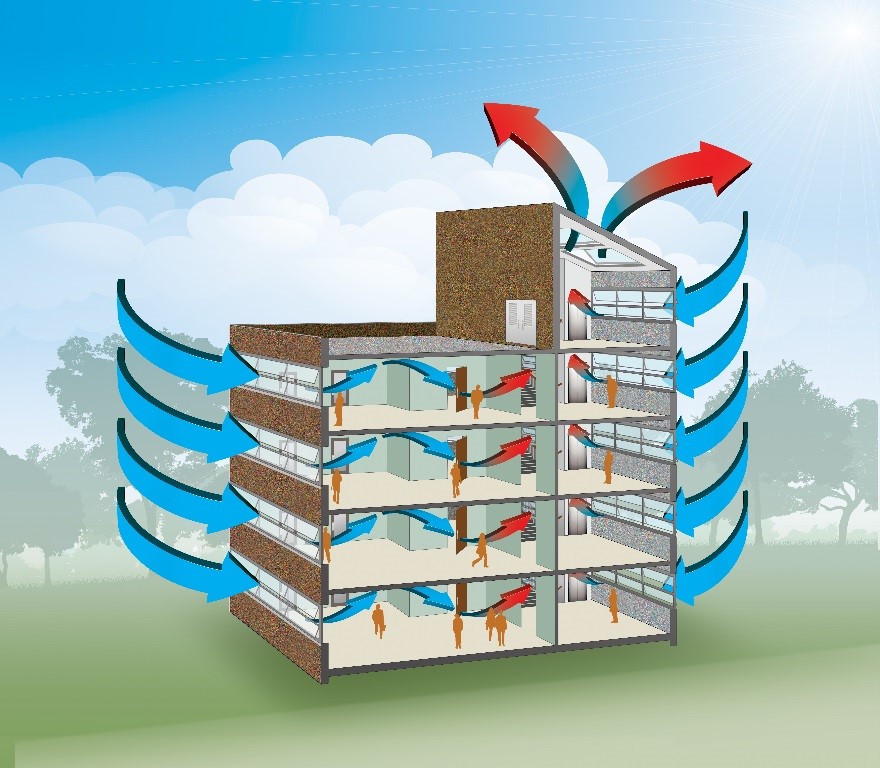 Large glass-enclosed atriums—such as those in retail, offices, or academic centres—are ideal candidates for a natural ventilation system that provides both climate control and passive smoke ventilation. In addition to mechanical ventilation, National Fire Protection Association (NFPA) 92B, Standard for Smoke Management Systems in Malls, Atria, and Large Spaces, recognizes natural ventilation as a viable alternative for smoke control in these large-volume building areas.
Recently, the Olin School of Business at Washington University−Saint Louis completed a $65-million, 16,260-m2 (175,000-sf) addition. Its centrepiece is a soaring five-storey glass atrium linking two adjoining buildings. Referred to as the expanded school's 'vertical town square,' the atrium hosts large school functions, a 100-seat café, various lounges, and seven classrooms.
As a large volume of glass-enclosed space, the atrium's geometry makes it a natural smoke reservoir. Mechanical smoke evacuation systems, including emergency generators to power smoke-exhaust fans, were cost-prohibitive. To maintain the soaring, unobstructed visuals, the architect and the structural engineering company collaborated to design a passive or natural ventilation system that doubles as smoke evacuation. This solution eliminated the emergency generator and exhaust fans without sacrificing the light-flooded esthetic.
What is natural ventilation?
Natural ventilation design creates comfortable, healthy, and safe interiors by bringing fresh air into a building and exhausting warm air and smoke during emergencies. This sustainable practice minimizes reliance on fossil-fuel-based mechanical systems. Buildings that incorporate natural ventilation can significantly reduce the demand and associated costs for mechanical air-handling equipment—an important consideration in lowering energy costs, as well as being gentler on the environment.
A properly designed natural ventilation system allows fresh outside air to enter a large-volume space through low-level inlet ventilators. As warm air rises, it exits through high-level ventilators at the top of the space. The large difference in height between the low-level entry of fresh air and the exit of warm air through the atrium creates a large buoyancy effect that draws air through the building. The upward airflow and circulation creates a cooler, more comfortable indoor environment and an ideal path for smoke extraction.
Natural ventilation systems feature electric actuators and sophisticated controls. This means the entire process is easily integrated into any building management system (BMS) for climate control or fire protection system for life safety.
Natural versus mechanical ventilation
Natural ventilation offers various benefits over a standalone mechanical ventilation system. A climate control system employing natural ventilation requires a smaller, less-expensive mechanical system. Smaller systems also require less energy. This, in combination with the minimal power consumption of automated natural ventilators, offers added savings. Building operational budgets can also be lowered, as natural ventilators require little maintenance.
Unlike mechanical systems, a natural ventilation system generates no heat and makes little noise, so it has virtually no adverse impact on indoor conditions.
Combining natural and mechanical systems
In response to the energy crisis of the 1970s, many buildings were designed with an eye toward efficiency. This meant tightening the building in an effort to minimize heat gains and losses from the outside environment. Engineers and facility managers became accustomed to using mechanical HVAC systems to control building comfort, and a closed ventilation system became the default.
Fortunately, today's building codes and forward-looking architects are embracing natural ventilation as a means to mitigate refrigerant-based mechanical cooling. The pendulum is not swinging all the way back—not all of tomorrow's buildings will have passive systems, because not every geographical region allows for a wholly passive-ventilated building. For many geographic areas, a blended mixed-mode approach is best.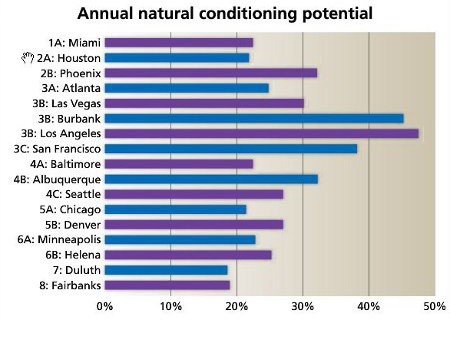 The typical home is a mixed-mode system: mechanical ventilation provides heat or air-conditioning on demand, and when conditions warrant, windows may be opened to let in fresh, unconditioned air. Today, most commercial buildings are mechanically ventilated, but there are indications this is changing. In fact, as shown in the table to the right, mixed-mode system buildings have been delivered throughout North America.
Natural ventilation is self-sustaining—when warm air and wind move across a roof vent, it generates a negative pressure that effectively vacuums the warm air out of the building. However, achieving a controlled indoor climate also relies on uncontrollable variables such as wind speed and direction, along with outside temperatures. Weather factors can also throw off the indoor environment of a naturally ventilated building—hot, hazy, or humid days may not always be conducive to occupant comfort.
In a mixed-mode system, mechanical systems are used in conjunction with natural ventilators to achieve optimal indoor climate conditions. Mechanical systems can be deployed as required by environmental conditions. Energy expenditures are minimized when mechanical systems are not running and the natural ventilation system is engaged. Besides the obvious benefit of lower energy consumption, mechanical equipment requirements are minimized when used in conjunction with natural ventilators, allowing for the use of systems less costly to purchase and maintain.
A mixed-mode solution also accommodates the concept of nighttime purging. With nighttime purging, a mechanical ventilation system provides climate control during the business day. At night, natural ventilation is engaged to exhaust stale interior air and replace it with fresh, cool air to start the next business day.
Which is better for large-volume indoor spaces?
Smoke control is mandatory in retail, corporate, and institutional atria, as well as other large enclosed common areas. The same natural ventilators that provide climate control can also offer smoke ventilation for the atrium. A modern BMS can manage the ventilators and engage them intelligently when outdoor conditions are appropriate. The spring and fall seasons, even in extreme climates, offer extended periods where natural ventilation can shoulder more of the cooling burden to reduce mechanical dependence.
Buildings are often required to have generators to run mechanical smoke ventilation equipment in the event of a power outage. The use of natural ventilation vividly demonstrates the owner's commitment to green practices, reduced mechanical reliance, and the creation of a more natural, environmentally responsible occupant experience.
Natural ventilation and building codes
Natural ventilation meets code requirements. The aforementioned NFPA 92B allows for either mechanical or natural ventilation, and the same is true for comfort cooling. American Society of Heating, Refrigerating, and Air-conditioning Engineers (ASHRAE) 62.1, Ventilation for Acceptable Indoor Air Quality, has provisions for natural ventilation; many other aspects of ASHRAE also make allowances for natural ventilation. ASHRAE broadly acknowledges natural ventilation as a sustainable, energy-efficient, and occupant-friendly design practice.
Additionally, NFPA 92B recognizes natural ventilation as a viable alternative for smoke control in large-volume building areas such as atria.
Washington University's solution
After taking into consideration all the parameters of the design, and with the school in agreement, the lead engineer on the Olin School project prepared computational fluid dynamics (CFD) modelling to demonstrate the efficacy of a passive smoke extraction. That model, peer-reviewed by independent experts, presented positive outcomes across an assortment of winter and summer worst-case scenarios.
Impressed but not convinced, code officials then called for a live demonstration. The engineering team used smoke canisters and high-powered industrial heaters to prove the passive ventilation system would be able to provide an all-natural, mechanical-free exit strategy in the event of fire.
Conclusion
In commercial and industrial design, the practice of natural ventilation as both climate and smoke control is more widely used overseas. Canada and the United States have been slower to integrate natural ventilation into building systems, but this approach is gaining new favour with a growing circle of North American architects. The lower initial cost from the elimination of some mechanical equipment is a driving factor, along with the energy savings of not having to run mechanical systems.
When design conditions are right, passive ventilation and smoke evacuation can save construction and energy costs, creating a win-win situation for building owners, occupants, and the environment.
About BILCO
For over 85 years, The BILCO Company has been a building industry pioneer in the design and development of specialty access products. Over these years, the company has built a reputation among architects and engineers for products unequaled in design and workmanship. An ISO 9001-certified company, BILCO offers lines of roof hatches, automatic fire vents, floor access doors, natural ventilation products, smoke and fire curtains, and residential access products. It is a wholly owned subsidiary of AmesburyTruth, a division of Tyman PLC. For more information, visit www.bilco.com.
About AmesburyTruth
AmesburyTruth is a leading manufacturer of window and door extrusions, hardware, and sealing systems, which are used by leading window and door manufacturers throughout North America, for both residential and commercial markets. Based in Edina, Minn., the company has facilities throughout North America. The company is a subsidiary of Tyman PLC (London Stock Exchange: TYMN), a London, England-headquartered international supplier of components to the window and door industry. Visit www.amesburytruth.com.
All information listed in this section was submitted by Bilco.
Kenilworth Media Inc. and Construction Specifications Canada (CSC) cannot assume responsibility for errors of relevance,
fact or omission. The publisher nor CSC does not endorse any products featured in this article.

Control the content you see on ConstructionCanada.net!
Learn More.