The Buildings Show, supported by TCA, BOMA, BILD, Concrete Ontario and CABA, is thrilled to return to the Metro Toronto Convention, South Building from December 1–3, 2021 along with curated online programming in advance.
The Buildings Show is the hub for construction, design, architecture, renovation and property management professionals, experts, and suppliers to learn, lead, and empower with cutting edge educational programming, product showcases, and networking opportunities.
"This is the number one show in Canada for the sector, so it's a welcome opportunity to begin a dialogue with our peers about how we're going to forge our way forward through all this mess," says John Mollenhauer, president and CEO at Toronto Construction Association (TCA). "We all recognize that we are getting back to normal, but we're not certain what that's going to look like. Being able to get everyone in the same room, even if it's virtual for some, will be a great opportunity."
Find out more and register for your pass.
Bringing Our Industry Together Safely

It is our top priority to ensure our events are organized in accordance with official government and local authority guidelines, as well as any venue or location specific regulations. Informa has collaborated with association partners and relevant authorities to develop industry wide AllSecure Standards that will raise the bar on safety, hygiene, and high-quality event experiences.
"Our priority this year is to bring our industry together safely," said Lisa Barnes, Show Director, Informa Connect. "With COVID still being a real factor and the situation in constant flux, we are planning for all options to enable our industry to reconnect safely this December."
As per the announcement made on Sept. 1, 2021 by the Ontario government, all patrons attending The Buildings Show will be required to be fully vaccinated. You will be required to show your vaccination record along with photo identification. Individuals who cannot receive the vaccine due to medical exemptions will be permitted to enter with a doctor's note.
Sustainability for the Entire Built Environment
The Buildings Show is committed to promoting sustainability for the entire Built Environment. We work within our community to educate on socially responsible practices for the design, construction and property management sectors. We also work with our exhibitors, suppliers and sponsors to reduce our Show's impact on the environment. Find out how we are making a change.
Reconnecting Through Hybrid Opportunities
While 90 per cent of attendees are excited to get back to face-to-face, 78 per cent of attendees surveyed would like the continuation of virtual content. The Buildings Show will provide opportunities and solutions for the industry to transact, learn, and engage year-round through hybrid, online and in-person experiences. Here are the top reasons to attend.
"Our team in partnership with thought leaders and industry experts are launching several hybrid experiences," said Lisa Barnes. "Discussions will be premiered ahead of our face-to-face event to allow our attendees to join curated conversations and education online".
Themes for this year will focus on four key areas: sustainability and resiliency; construction technology; property management technology; and architecture and design. The 2021 educational program will include online and in-person expert led-seminars, informative panels and thought-provoking roundtables. Attendees will be able to follow important topics from virtual to face to face and select sessions will be accredited by BOMA, OAA, BSSB, ARIDO, and CAHPI. Explore the full seminar program at The Buildings Show.
"We have a lot to talk about, both in regard to the impacts of the pandemic on our industry and many of the issues that we were all dealing with before COVID-19 hit, be it the skilled labour shortage, demand for innovation, international competition, and the challenges of bidding in this environment," John Mollenhauer, president & CEO at Toronto Construction Association (TCA).
Back by Popular Demand

Join our esteemed faculty of global architects as they present some of their most prominent projects and illustrate the importance of creating mindful design with purpose in public buildings. Listen to a provocative discussion amongst the panelists that touch on sensitivity in design, integration of innovation, public safety in community spaces, and creating intriguing buildings that generate dialogue in the community.

The design and experience of interior spaces has been transformed through the recent pandemic. What is the new way forward? Join us for an insightful conversation and dialog of planning for sustainability and resilience in transformative spaces while being mindful of inspiration, function over form, materials, collaboration, and human capital.

We have all lived through uncertainty and challenging times throughout the Pandemic. Property managers continue to be faced with many new challenges balancing tenant occupancy, building operations, an enhanced focus on health  and wellness, and what a return to work will look like. Join the Property Management Executive Roundtable as our panel examines how organizations have taken the time to re-evaluate their buildings, technologies, capital expenditures, sustainability, and the resilience of the business.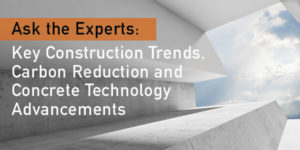 Ask the Experts: Key Construction Trends, Carbon Reduction, and Concrete Technology Advancements
Do you have a question about concrete construction, repair or restoration? Join Master Builders Solutions experts as they discuss local construction trends that effect such things as embodied carbon, speed of construction and sustainability practices. Then get your toughest questions answered about concrete production, construction, durability/resilience, sustainability, corrosion mitigation, repair and maintenance of concrete structures.
See the full line-up of accredited seminars, panels and workshops
Supporting the Industry for Over 30 Years
For more than 30 years, The Buildings Show has provided a unique platform for showcasing the construction, building design, renovation, and property management industries. In 2021, associations, organizations, professionals, and experts will continue to see a first-hand complete overview of the built environment. In a safe and secure platform, attendees will make connections, share knowledge and source new innovations to drive their business forward into 2022 and beyond.
In addition to the robust educational program, attendees can expect a variety of networking opportunities and a highly curated and exciting line-up of installations, activations, and demonstrations, from companies such as Autodesk, Procore, Yardi, Master Builders Solutions, Hilti, Schneider Electric Canada, Norbec Architectural, FLO, Alcumus, and many more. Find out who is participating.
When is the Event?
November 15 – 26, 2021–Online Programming
December 1 – 3, 2021–Onsite at the Metro Toronto Convention Centre, South Building
Exhibit Hours: 9:30 a.m.–5 p.m. (9 a.m.–1 p.m. on Friday, December 3)
Conference Hours 8 a.m.–5 p.m. (no sessions on December 3)
About The Buildings Show
The Buildings Show, produced by Informa Connect, is home to Construct Canada, PM Expo, HomeBuilder & Renovator Expo, and World of Concrete Toronto Pavilion. It is North America's largest exposition, networking and educational event for design, architecture, construction, renovation, and real estate industries. For more information on The Buildings Show, visit www.thebuildingsshow.com.
About Informa
Informa is an award-winning, full-service exhibition and conference company with an exceptional track record for producing high-quality, successful international shows providing networking and industry education. Informa owns leading exhibitions and conferences including: The Buildings Show, BUILDEX Shows, Real Estate Forums, Interior Design Show, Greenbuild, World of Concrete, International Surfaces Show, International Roofing Expo, and more. For more information on Informa Connect, visit www.informaconnect.com.
All information listed in this section was submitted by Informa Connect.
Kenilworth Media Inc. and Construction Specifications Canada (CSC) cannot assume responsibility for errors of relevance,
fact or omission. The publisher nor CSC does not endorse any products featured in this article.

Control the content you see on ConstructionCanada.net!
Learn More.