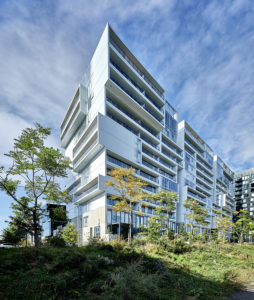 ALPOLIC Metal Composite Materials is proud to be a sponsor of the Emerging Leader Awards, and we join the entire design and building community in saluting the achievements of the next generation. Having been a part of the architectural, engineering, and construction industry for nearly half a century, we remain inspired and encouraged by the continued ingenuity and originality demonstrated by these talented individuals.
As they create our future office buildings, schools, hospitals, and residential communities, they will, no doubt, reshape the skylines and landscapes of both big cities and small towns across the world. ALPOLIC is proud to play a role in helping them bring their visions to life with our premium metal composite materials (MCM).  Our lightweight, yet rigid and highly adaptable materials provide endless colour options from realistic wood grains to nature-inspired matte finishes to colour-shifting prismatics and bold shimmers. And, our commitment to quality, sustainability, and customer care is unmatched.
As a global leader in MCM manufacturing, we understand excellence and we celebrate it. Congratulations to all the 2020 nominees.