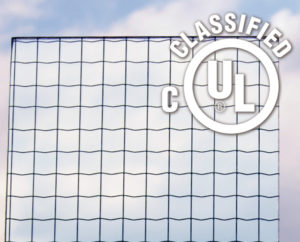 The fire-rated glass you use must be third-party certified and labelled. Protect3 Safety Glass is fully impact-safety (ANSI Z97.1 Cat II, For safety glazing materials used in buildings – safety performance specifications and methods of test) and Underwriters Laboratories (UL) certified fire-rated. It is code compliant and is available for 45 minute windows and up to 90 minutes for doors.
Protect3 offers fire, safety, and security protection—all in one.
In recent years, traditional wire glass has been phased out of the building code (Canadian General Standards Board [CGSB] 12.11, Wired Safety Glass, was withdrawn and updated to CGSB 12.1, Safety Glass). Traditional wire glass survives a fire, but it is not impact-safe.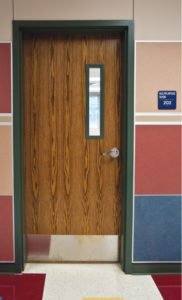 Protect3 is the new standard when you need an alternative to traditional wire.
Glassopolis designed Protect3 to be safe, affordable, legal, and it is certified and UL labelled. If the glass you are using is not certified and labelled, your glass is not legal.
Glassopolis is a Canadian specialty glass distributor dedicated to meeting the needs of construction specifiers and related trades.
For more information, contact Michael Keffer at michael.keffer@glassopolis.com or (604) 506-7017. Alternatively, visit:
All information listed in this section was submitted by Glassopolis.
Kenilworth Media Inc. and Construction Specifications Canada (CSC) cannot assume responsibility for errors of relevance,
fact or omission. The publisher nor CSC does not endorse any products featured in this article.