Advantages of tall wood construction driving growth
November 20, 2019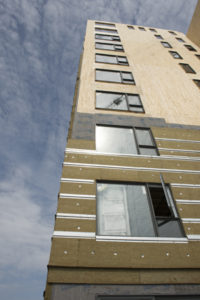 [1]Tall wood construction has strong and growing support within Canada's architectural and design community, and for good reason. Mass timber offers all the benefits of traditional wood construction, but with highly engineered strength that compares to concrete and even steel.
The list of advantages is hard to ignore. Mass timber uses rapidly renewable resources, so the sustainability component alone represents a seamless fit with Canada's prioritization of climate action.
Other advantages include:
cost efficiency: due to offsite fabrication, mass timber buildings are often completed in less time than a traditional build;
fire protection: as it chars slowly, mass timber provides valuable fire resistance;
seismic performance: mass timber panels perform exceptionally well in seismic testing in multi-storey applications, thanks to their dimensional stability and rigidity;
acoustic performance: the mass of the wall in tall wood buildings helps to mitigate sound transmission, along with sealants and membranes for airtightness and insulation installed between the floor and wall; and
energy efficiency: mass timber can be manufactured to precise specifications, resulting in tighter joints in the building envelope and higher thermal resistance.
To learn more about tall wood construction and its benefits, and to see how stone wool insulation can enhance these benefits, visit www.rockwool.com/fire-safe-design[2].
Endnotes:
[Image]: https://www.constructioncanada.net/wp-content/uploads/2019/11/Roxul-170410206575.jpg
www.rockwool.com/fire-safe-design: https://www.rockwool.com/fire-safe-design?utm_source=Construction%20Canada&utm_medium=Native%20Content&utm_campaign=ArchFire%20CA
Source URL: https://www.constructioncanada.net/advantages-of-tall-wood-construction-driving-growth/
---