Acoustical ceiling with drywall visual offers ideal solution for today's changing spaces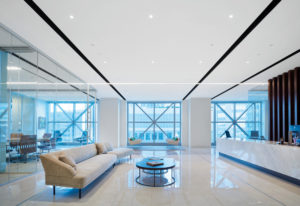 Acoustical ceiling provides seamless appearance of a drywall ceiling along with sound absorbing and sound-blocking performance.
A drywall ceiling imparts a clean, monolithic visual to a space esthetically but offers no benefits acoustically. It is, in fact, a noise creator in the sense it is a hard surface that allows sound to reverberate with no absorption.
To provide acoustics, especially in today's changing work environments when all types of spaces are being reviewed to address post-pandemic needs, ceilings offering both sound absorption and sound blocking are an ideal solution. Sound absorption reduces noise while sound blocking keeps it from travelling into adjacent spaces. Combined, they help create more productive environments, whether seeking quieter spaces or higher levels of privacy.
Esthetics plus acoustics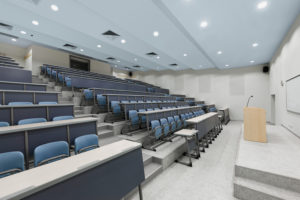 ACOUSTIBuilt™ Seamless Acoustical Ceilings from Armstrong Ceiling Solutions is such a ceiling, providing the look of drywall but performing like an acoustical ceiling.
Finished ACOUSTIBuilt panels offer a smooth, non-directional, monolithic visual to meet the needs of architects, designers, and owners who desire the seamless appearance of a drywall ceiling and also require effective acoustical performance in a space.
The ceiling is part of the Armstrong Total Acoustics® portfolio, offering an ideal combination of sound absorption and sound blocking in one panel. The installed system has a noise reduction co-efficient (NRC) of up to 0.80, indicating it absorbs up to 80 per cent of the sound striking it, and an extremely high ceiling attenuation class (CAC) of up to 46, indicating its ability to insure speech privacy by preventing sound from entering adjacent spaces.
ACOUSTIBuilt ceiling systems are also part of the Armstrong Ceilings Sustain® portfolio and meet the most stringent sustainability compliance standards in the industry today, including Leadershipn in Energy and Environmental Design (LEED) v4, Living Building Challenge, and the WELL Building Standard.
ACOUSTIBuilt ceiling systems are easier to install than acoustical plaster and at a lower cost. Panel installation is quick and easy using Armstrong Drywall Grid. Finishing methods are similar to those of traditional drywall ceilings.
Numerous integrated solutions
To make the design and installation of ACOUSTIBuilt ceilings easier and faster in wall-to-wall or cloud applications, Armstrong offers over 50 pre-engineered, integrated solutions addressing common conditions across the ceiling plane. They include:
shade pockets – a wide variety of Armstrong Axiom® shade pocket options allows seamless integration with a variety of manual and automatic roller shades;
Armstrong Drywall Grid – allows the creation of soffits and slopes of any angle;
diffusers –linear diffusers from Armstrong marketing partner Price® Industries are prequalified for fit and finish;
lighting – a new linear lighting trim kit allow seamless integration from below of lighting fixtures from XAL® and Axis® Lighting, which are specifically designed for fit and finish with Armstrong products;
access panels – Armstrong Plasterform ™ access panels offer a wide variety of shape and size options to fit design needs; and
trims and transitions – Axiom trims, including a new angled knife edge, provide crisp architectural detail for cloud applications or transitions to other ceiling types.
All information listed in this section was submitted by Armstrong World Industries Inc.
Kenilworth Media Inc. and Construction Specifications Canada (CSC) cannot assume responsibility for errors of relevance,
fact or omission. The publisher nor CSC does not endorse any products featured in this article.

Control the content you see on ConstructionCanada.net!
Learn More.