Achieve a superior basement/foundation with insulated concrete forms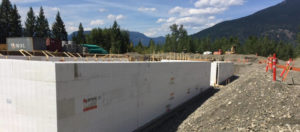 Utilizing insulated concrete forms (ICFs) in a basement application provides a structurally superior and resilient foundation that delivers better insulation and is more energy efficient than traditional construction methods. This type of construction methodology helps reduce energy bills considerably by maintaining a consistent temperature in the basement. ICFs also facilitate an overall reduction in maintenance costs for the homeowner over the lifetime of the building.
About insulated concrete forms
ICFs are stay-in-place concrete forms comprising of two panels of expanded polystyrene (EPS) held together with plastic webs. Each EPS panel is 63.5-mm (2 ½-in.) wide and the concrete core can be 104, 125, 203, 254, or 305 mm (4, 6, 8, 10, or 12 in.) depending on the building type, height, and engineering requirements. Amvic ICF has introduced Amvic ICF R30 block, the latest innovation in ICF technology where the EPS panel thickness has been increased by 30 per cent to 82.5 mm (3.25 in.), making it the highest R-value of any factory assembled block in the industry.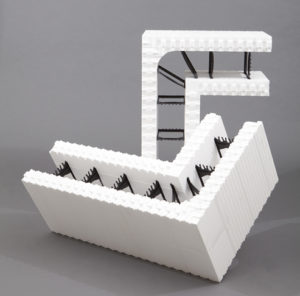 ICF blocks are placed on reinforced structurally engineered building footers and are stacked in a similar fashion to Lego blocks. As the blocks are stacked, reinforced steel or rebar is placed inside. The horizontal steel reinforcement sits on top of the webs and is locked into place by the web configuration. The walls are braced on the inside for support during the concrete pour and provides a means to adjust the installed ICF to ensure they are straight and plumb before, during, and after the concrete is poured into the ICF block.
Due to the pressure exerted during the concrete pour, an ICF block with high form capacity rating is recommended. It is also important the ICF has the ability to withstand internal concrete vibration to ensure complete concrete consolidation.
Once the concrete is poured and allowed to cure, you achieve a concrete wall system offering a 5-in-1 building solution by providing structural strength, insulation on the interior and exterior, an air and vapour barrier, sound attenuation, and the webs used to hold the two panels of EPS insulation together become the framing elements. Drywall is easily attached on the interior and any exterior finish like stucco, exterior insulation and finish system (EIFS), brick, and siding can be easily attached directly to the ICF according to local building code requirements.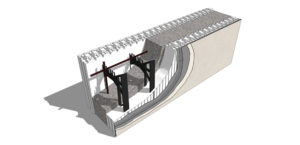 Thermal performance
The combination of concrete thermal mass, thermal resistance of EPS along with an air/vapour barrier creates an ideal wall system that is more energy efficient than traditional construction methods. A higher R-value in the walls provides a thermally efficient envelope. When coupled with the right mechanical systems, ICF delivers uniform and economical heating and cooling within the building.
Building codes are slowly, but surely, pushing for increased thermal resistance both for below- and above-grade walls. Looking at the Ontario Building Code (OBC) and Supplementary Standard SB-12, nine out of the 13 available compliance packages require a R-value of 20 (RSI 3.52) or higher for basement walls. Each compliance package has requirements for various envelope components as well as the mechanical systems. The compliance packages offering R20 (RSI 3.52) for basement walls are easily achieved, making them one of the most common choices for builders and designers.
The traditional wall assembly is usually composed from a layer of rigid insulation with 2×4 framing and batt insulation. Although common and relatively easy to install, all the insulation is fixed inward of the concrete foundation wall. This allows for substantial thermal bridge (heat movement) at grade and at the slab.
This type of system requires multilayer installation, which increases reliance on scheduling, material, and labour availability. One of the benefits an ICF basement has to offer is the built-in insulation and "studs" (web flanges). Once the concrete is placed, the insulation and the webs are already in place leaving only the installation of drywall (electrical installation is easily achieved with ICF using a hot knife or similar tool). The combination of foam and the concrete has no air gaps, thus no surface for condensation to occur while acting as an air and vapour barrier, thereby eliminating the need for a dedicated 6-mil polyethylene.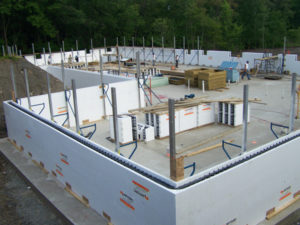 Comfortable and healthy environment
The combination of EPS insulation and concrete thermal mass creates an airtight wall that helps to improve the air quality by reducing unwanted air infiltration. Amvic ICFs provide exceptional sound attenuation and have a sound transmission class (STC) rating of 50, which corresponds to a reduction in over two-thirds of transmitted noise, and creates a quieter interior space. ICF structures are resistant to mold and mildew. This contributes to a healthier and more comfortable lifestyle.
 Ease of installation
One of the main reasons why ICF structures have gained popularity is because of the structural strength, integrity, and durability. Installers, contractors, and builders prefer using ICF because it considerably reduces the construction time and labour costs and easily accepts various exterior finishes. Since ICF blocks are lightweight, they reduce the amount of heavy machinery and equipment needed at the jobsite. ICF also provides a cleaner jobsite, reduces waste, and offers an overall safer construction environment.
Amvic's ICF system is fully reversible making the stacking process quick and simple. The innovative design and manufacturing consistency means the forms virtually align themselves to create straight walls. Amvic also features the superior FormLockTM interlocking system that requires no taping, gluing, or tying which help speed up the installation process dramatically.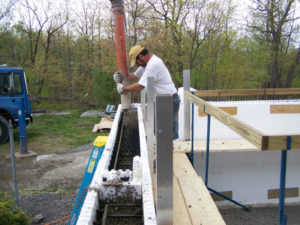 Benefits to the contractor
ICFs provide numerous benefits to contractors and help them build to a higher standard of performance. From an installation perspective, working with ICF blocks is safer and easier due to their size and weight. Under normal circumstances, the ICF blocks would be stored inside the footprint of the foundation and a crew of one installer and one assistant are able to stack the entire basement foundation walls in a matter of days along with appropriate reinforcement and bracing.
Pouring of the concrete would be very similar to a traditional pour apart from using a slightly less viscous concrete (higher slump) and the need to vibrate the concrete in the process. The resulting concrete core is stronger than a traditionally poured concrete wall due to the near ideal curing conditions. This allows for concrete to be placed in practically all-weather conditions including freezing temperatures since the concrete is kept warm due to the insulating layers requiring only the top of the wall to be protected.
Another benefit of ICF construction is the dual insulation layer that acts both to hold the concrete during the pour and stay in place insulation past the pour. In traditional construction, depending on the desired insulation level, a contractor would have to install it as a separate step, whereas with ICF, the insulation is already in place and the wall is ready to receive electrical and interior finishes. The combination of all these features gives the builder the ability to provide a superior basement solution to clients.
Design/application flexibility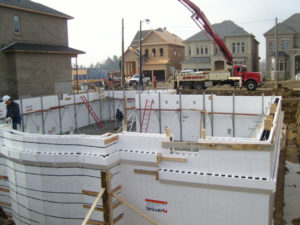 ICF has superior engineering capabilities that allow a significant flexibility in design. They are described in the following paragraphs.
Thick foundation walls and brickledge
As the need for more insulation increases, so does the thickness of walls (in most cases). Depending on code requirements, above-grade walls currently use 2×6 stud wall construction, sometimes even with 25 mm (1 in.) rigid insulation on top of that. This makes for a thick wall especially if using masonry with an air space. It is not uncommon for builders to switch to 254-mm (10-in.) thick foundation walls when using masonry and 205-mm (8-in.) when using stucco or siding. Using these two foundation wall thicknesses and adding the needed insulation make these finished walls approximately 406 and 356-mm (16 and 14-in.) wide respectively.
In comparison, a below-grade (205-mm) ICF foundation wall would be 343-mm (13.5-in.) wide, roughly the same as the traditional (205 mm) finished basement wall but thinner than a masonry bearing one. ICFs have matured significantly as a construction practice with dedicated specialty forms and accessories. A brickledge form is commonly available and can be used for the top row of an ICF foundation wall to provide much deeper bearing surface which can accommodate both a 2×6 stud wall along with masonry veneer and an air cavity, all while the wall itself is only (205 mm.) wide. If masonry is not used above grade, the top row can just be the standard ICF blocks.
Many ICF manufacturers would have an engineered welded wire mesh reinforcement for the brickledge form which can be just dropped in place, eliminating the need for additional reinforcement. When compared to traditionally formed foundation walls, one would have to go with a much thicker concrete wall or use a steel shelf angle to support masonry above grade. The brick shelf angle adds complexity to the build while the thicker concrete adds cost and reduces useable interior area.
Walkout basements
ICF construction is also a great alternative for above-grade construction with the same ease of stacking and construction speed. In a situation where a house might have a walkout basement, using ICF offers all the benefits of below- and above-grade ICF construction. The resulting wall is strong, monolithic, with continuous layers of insulation creating consistent thermal comfort in the entire space regardless of it being below grade or exposed.
If masonry veneer is used above grade, the brickledge form can be easily incorporated into any given row while stacking the blocks. This allows the masonry veneer to come closer to grade as it slopes. Windows and doors are easily incorporated by cutting the foam and inserting a buck.
Radius wall designs
A variety of speciality blocks are available, one of these forms is the radius block that allows for various radius walls to be made from ICF. The curved or radius blocks are either cut onsite by following the markings on the block or come precut directly from the manufacturer.
Thus, an ICF construction results in a stronger concrete wall, that is better protected, with an interior space, which is well insulated, dry, and warm (or cool, depending on the season). The superior thermal and acoustic comfort of the ICF basement allows for a truly functioning space for virtually endless possibilities including bedrooms, offices, and game rooms.
Click to learn more about the various innovative insulation building solutions by Amvic Building System.
All information listed in this section was submitted by Amvic Inc..
Kenilworth Media Inc. and Construction Specifications Canada (CSC) cannot assume responsibility for errors of relevance,
fact or omission. The publisher nor CSC does not endorse any products featured in this article.

Control the content you see on ConstructionCanada.net!
Learn More.