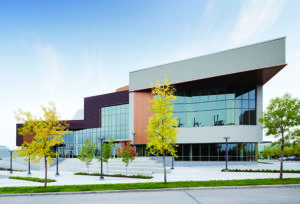 At Vicwest Building Products, we are committed to building strong and vibrant communities, improving quality of life, and making a positive difference in the places where we live, work, and play. We are a leading manufacturer and distributor of exterior building products, including metal roofing, siding, and architectural panels for the residential, commercial, and agricultural markets. As one of Canada's largest manufacturers of steel products for the building envelope, we have been redefining and raising the standards in metal building construction and design for more than 85 years.
Now more than ever, global challenges such as climate change, resource depletion, and energy availability have surged to the forefront. Being a socially responsible company, we recognize the importance of addressing our environmental impact.
As we strive to build a better world for us all, we also believe in supporting the next generation of leaders in the field of architecture. With the advancements in technology, emerging professionals have further opportunities to rise to leadership roles and lead with a positive impact. A commitment to sustainability fosters innovative thinking by our younger peers who have a genuine desire for change, leading to the development of brilliant, sustainable initiatives that make a global statement.
Vicwest Building Products is proud to sponsor the Emerging Leader Awards, which recognizes outstanding young talent, and for many, an award that will prove to be a launching point to even greater success for our industry. Congratulations to all the nominees! It is truly a rewarding industry we are proud to be a part of.
At Vicwest, we are Building for Tomorrow.
To view the full product offering or recent installations, visit vicwest.com.